LANCIA ARMATA
---
USD 660,-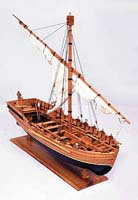 | | |
| --- | --- |
| N. ID | ls85 |
| Rubrica | Modellini di navi |
| Misurazioni | 61 cm |
| Anno | 1803 |
| Scala | 1 : 17 |
Descrizione
This model is an exact replicas of Lancia Armata used by the navy in the 19th Century. This craft was armed with several blunderbuss and on the bows there were two heavy guns and on the stern there were two light guns.

This ship was used as coast guard. The ship could participate in surprise attacks against ships in harbour. The cannons on the bows were fixed on a wooden structure and could easily slide forward and backward on the guide. One person controlled the height of the guns and the steerman did control the ship. In surprise actions the sails and the mast were put down and the ship was pulled down in oars in complete silence so that the enemy could not hear anything.
venditore
Yacht-Olsson
Contatto
Herr Ralph Olsson
Telefono
+49.(0)40 5500774-8
Fax
+49.(0)40 5500774-9
Mobile
+49.(0)172 / 4538745
Internet
http://www.yacht-olsson.de
Boatnet non si assume alcuna responsabilità per dati errati o mancanti!