---
11m Hubkielsloop
(ID no. E3163)
---
€ 44.500,-
(EUR-Price in other currencies) EUR 44.500,-
---
ATS 612.333,-
AUD 70.951,-
BEF 1.795.126,-
CAD 70.569,-
CHF 51.975,-
DEM 87.034,-
DKK 331.486,-
ESP 7.404.177,-
FIM 264.585,-
FRF 291.901,-
GBP 38.710,-
HRK 331.476,-
ITL 86.164.015,-
LUF 1.795.126,-
NLG 98.065,-
NOK 423.418,-
PLN 187.761,-
PTE 8.921.449,-
RUB 3.126.393,-
SEK 449.726,-
USD 54.837,-

---
Current market price from [..]
EU taxed, VAT can't be stated separately, VAT paid, VAT included
Contact to supplier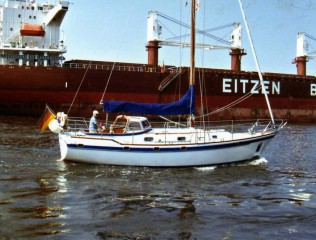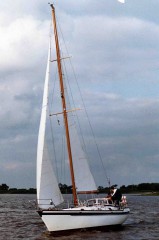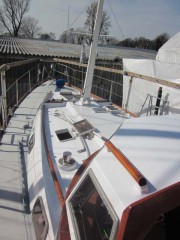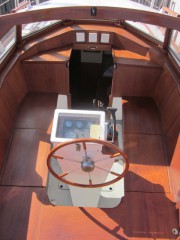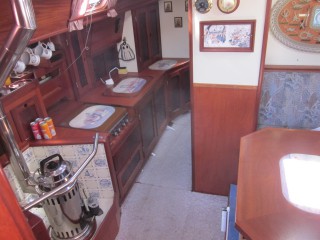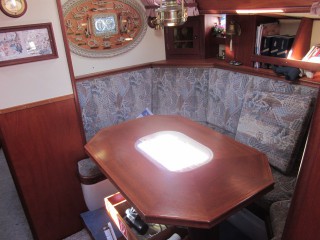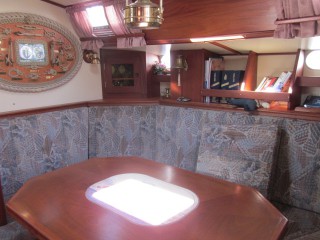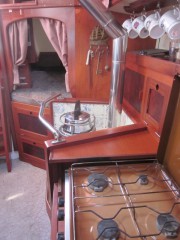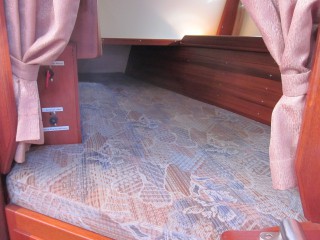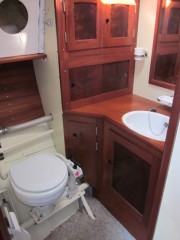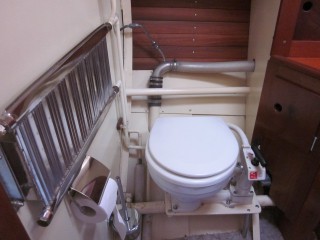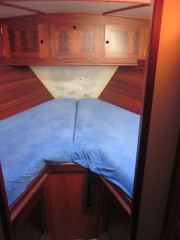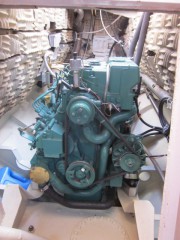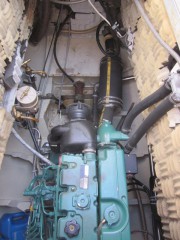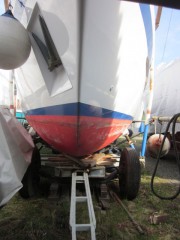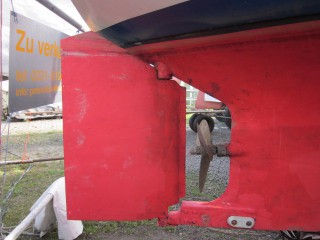 Boatyard
Self-construction
Category
Sail
Status
Second-hand yacht / well-kept / 2 previous owners
Year built
1982 (Launching 1991)
Length
10,80 m
Location
Europa Norddeutschland
Beam
3,55 m
Draught
1,10 - 2,10
Free-board
1,90
Weight
8500 kg
Material
Hull: Steel
Assembly: Aluminum
Rig
Sloop
Sail surface
66,5 qm
Engine type
Volvo Penta
Number of engines
1
Fuel type
Diesel
HP / kW
55 / 40
Steering
Single throw switch
Fresh water tank
350
Fuel
390
Cabins
1
Bunks
4
Head room/wet lockers
1 Manual WC + Wash basin
Ship's steering
Steering wheel
---
Fixtures & Cabin Layout
Bow cabin, Owner's cabin, Salon, Teak cockpit, Teak in cabin
Pantry
Gas hob, Sink unit
Technology
Anchor, Anchor locker, Battery charger, Mechanical bilge pump, Bow Windlass

charger Victron 50Ah
diode distributor Victron 100-3
batteries Varta Prof. 1x180Ah, 1x100AH, 2014
starter and light machine overhauled in 2014
ignition lock and engine monitoring new in 2014
glowplug new in 2014
injection system completely overhauled

Navigation
Echo sounder, GPS, Compass, VHF radio, Wind instruments
Safety
Pushpit, Fire extinguisher, Pulpit, navigation lights, Fog horn, Life Ring, Guard rails, Signal horn, Manual searchlight
Sails
Main sail, Wooden boom, Main sail battens, Sloop rig, Storm head sail, Head Sail, Winches

new rigging in 2017
Awnings & covers
Boom cover, Cockpit awning, Windshield wipers, Hardtop

new cockpit awning in 2017
Accessories
Anchor chain, Deck hatch, Fender, Mooring line, Heating, Radio, Anti-fouling, other extras

new shaft in 2017
Description
This Liftkeel Yacht was built from a professional boatbuilder for himself. She has a very cosy interior and due to her variable draft she is suitable for shallow waters as well as for the world's oceans.
Overhauled in 2014/2015
In 2017 the boat was equipped with an new rigging, cockpit awning and shaft.
In spring 2018 an new 50 hp Beta engine will be installed.
---
Additional contact details
Seller
Weise Yacht Sale
Contact
Herr Ralf Weise
Phone
+49.(0)421 460 457 32
Fax
+49.(0)421 460 457 39
Mobile
+49.(0)179 / 66 34 531
Internet
http://www.weise-yacht-sale.de
All details mentioned are on obligatory basis. Errors excepted. Alterations are subject to change.
BoatNet accepts no responsibility for false or erroneous information!
---
© BoatNet 1996-2018 - https://www.BoatNet.de