---
Broadblue 346
(ID no. 12839)
---
€ 141.500,-
(EUR-Price in other currencies) EUR 141.500,-
---
ATS 1.947.082,-
AUD 225.607,-
BEF 5.708.096,-
CAD 224.393,-
CHF 165.269,-
DEM 276.750,-
DKK 1.054.052,-
ESP 23.543.619,-
FIM 841.321,-
FRF 928.179,-
GBP 123.090,-
HRK 1.054.020,-
ITL 273.982.205,-
LUF 5.708.096,-
NLG 311.825,-
NOK 1.346.374,-
PLN 597.038,-
PTE 28.368.203,-
RUB 9.941.228,-
SEK 1.430.029,-
USD 174.370,-

---
Current market price from [..]
EU taxed - no, VAT can be stated separately, VAT not paid, VAT exclusive
Contact to supplier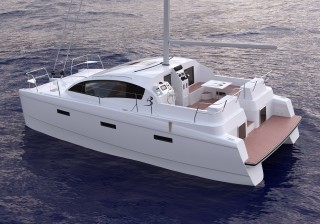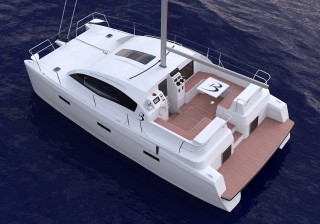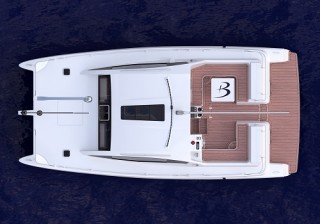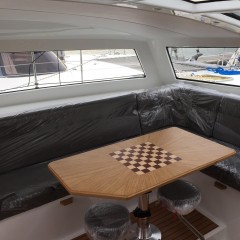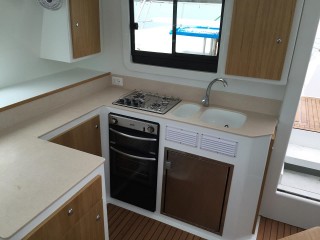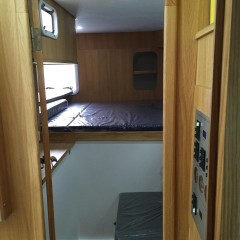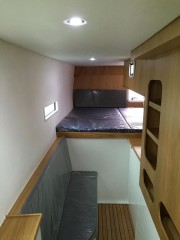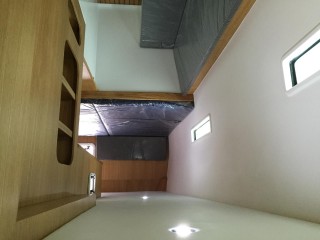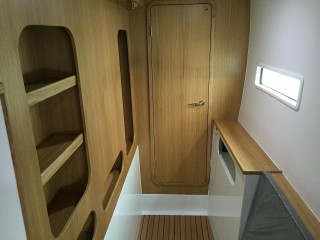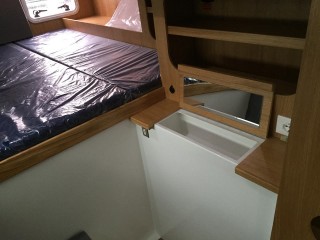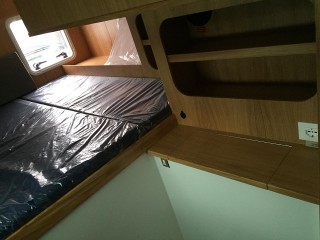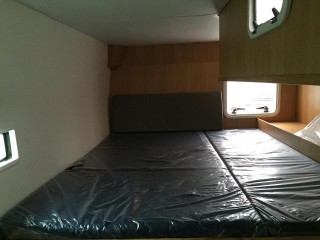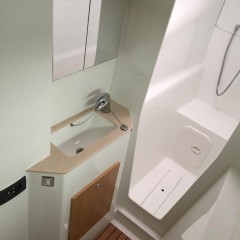 Boatyard
Broadblue Catamarans (UK)
Category
Multi-hull boats
Status
New yacht / mint-condition
Year built
2018
Length
9,98 m
Location
Europa Großbritannien Süd-England
Beam
4,85 m
Draught
1,01
Free-board
2
Weight
4710 kg
Material
Hull: GRP
Assembly: GRP
Rig
Sloop
Engine type
Beta-Diesel oder Außenborder
Number of engines
2
HP / kW
2 / 2
Steering
Single throw switch
Cabins
4
Bunks
6
Number of extra bunks
2
Head room/wet lockers
1 Marine WC + Wash basin + Shower
Ship's steering
Hydraulic steering
Trailer
without Trailer
---
Fixtures & Cabin Layout
Aft cabin, Bow cabin, Owner's cabin, Salon, Teak in cabin

Very spacious and comfortable interior. 2m standing headroom in the bridge deck salon.
Pantry
Oven, Double sink, Freezer, Grill, Refrigerator, Gas hob

Spacious Pantry with lots of stowage and huge solid worktop.
Technology
220V socket, Anchor, Anchor locker, Battery, Battery charger, Electric bilge pump, Mechanical bilge pump, Bow Windlass, Residual current circuit breaker (RCCB), Shore power 230V
Navigation
Compass

Will be equiped for requirements of the new owner.
Safety
Pushpit, Fire extinguisher, Pulpit, navigation lights, Guard rails
Sails
Aluminum boom, Genoa, Main sail battens, Furling-jib system, Self-tacking foresail, Sloop rig, Spinnaker set-up, Winches

Any of buyers choice
Awnings & covers
Lazy bag
Accessories
Anchor chain, Swimming ladder, Built-in swimming platform, Deck hatch, Pressure washer, Fender, Mooring line, Water heater, other extras
Description
The new Broadblue 346 will offer the space and sagfety of an 40 foot catamaran for the price of an 33 footer. the beam of only 4,85m will allow her to cruise the French or Dutch canals. On the other hand she will be ready for long distance cruising around the world.

---
Additional contact details
Seller
Weise Yacht Sale
Contact
Herr Ralf Weise
Phone
+49.(0)421 460 457 32
Fax
+49.(0)421 460 457 39
Mobile
+49.(0)179 / 66 34 531
Internet
http://www.weise-yacht-sale.de
All details mentioned are on obligatory basis. Errors excepted. Alterations are subject to change.
BoatNet accepts no responsibility for false or erroneous information!
---
© BoatNet 1996-2018 - https://www.BoatNet.de