---
Havkat 31
(ID no. C3913)
---
€ 58.000,-
(EUR-Price in other currencies) EUR 58.000,-
---
ATS 798.097,-
AUD 88.713,-
BEF 2.339.714,-
CAD 88.592,-
CHF 68.260,-
DEM 113.438,-
DKK 431.764,-
ESP 9.650.388,-
FIM 344.852,-
FRF 380.455,-
GBP 51.108,-
HRK 431.463,-
ITL 112.303.660,-
LUF 2.339.714,-
NLG 127.815,-
NOK 558.831,-
PLN 241.956,-
PTE 11.627.956,-
RUB 4.020.735,-
SEK 570.548,-
USD 71.079,-

---
Current market price from [..]
EU taxed, VAT can't be stated separately, VAT paid, VAT included
Contact to supplier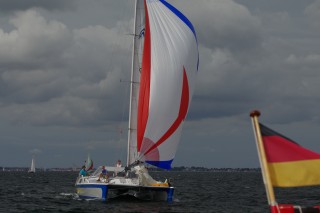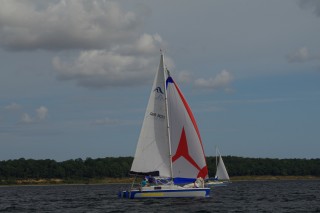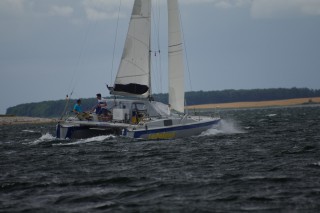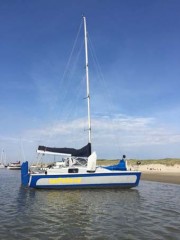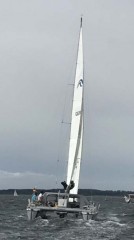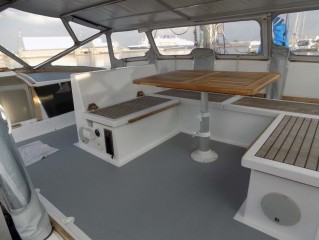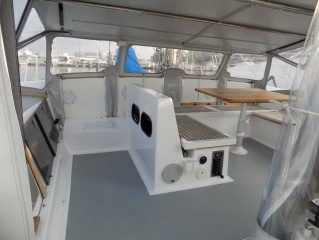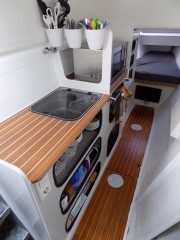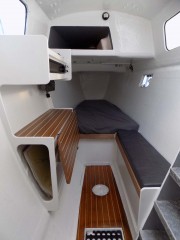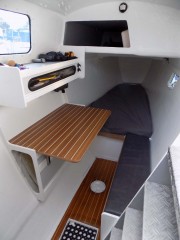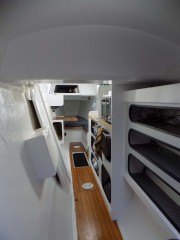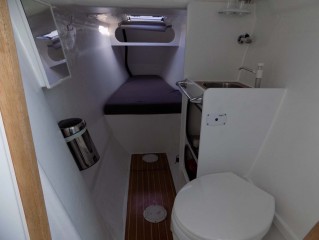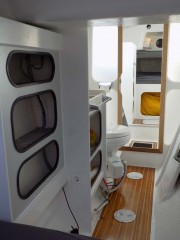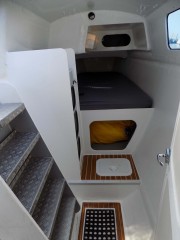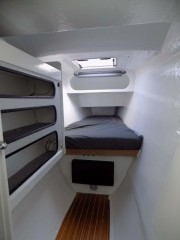 Boatyard
Rhebergen Multihulls (NL)
Category
Multi-hull boats
Status
Second-hand yacht / very good
Year built
1992 (Launching 1992)
Length
9,50 m
Location
Europa Deutschland Norddeutschland
Beam
5,95 m
Draught
0,4
Free-board
1,9
Weight
3000 kg
Material
Hull: GRP
Assembly: GRP
Rig
Slup
Sail surface
65 qm
Engine type
Yamaha Außenborder
Number of engines
10
Fuel type
Gasoline
Fresh water tank
150
Fuel
25
Cabins
3
Bunks
5
Number of extra bunks
2
Head room/wet lockers
1 Electric WC + Wash basin
Ship's steering
Tiller
Trailer
Hafentrailer
---
Fixtures & Cabin Layout
Aft cabin, Bow cabin, Salon
Pantry
Oven, Compressor, Microwave, Sink unit
Technology
220V socket, Anchor, Battery, Battery charger, Generator, Shore power 230V, Solar battery charger
Navigation
Autopilot, Echo sounder, GPS, Plotter, Compass, Sumlog, VHF radio
Safety
Pushpit, navigation lights, Guard rails
Sails
Head Sail, Asymmetric spinnaker, Main sail battens

Main - North, Dakron app. 40m²
(good condition)
Jib - UK, Laminat, app. 25m²
(very good condition)
Gennaker - UK, 92m² with snuffer, (as new)
Drifter, app. 50m²
(fair condition)
Awnings & covers
Main sail cloth, Lazy bag, Spray hood, Foresail cloth
Accessories
Anchor chain, Cockpit cushions, Pressure washer, Fender, Mooring line, Radio, Anti-fouling
Description
ImPoSand was build professionally be Rhebergen in the Netherlands. The current owner overhauled her extensively in 2014/2015. (new interior, new varnish, complete awning for the middle deck).

The Havkat 31 combines the comfort or a cruising catamaran with sailing attributes of a Dragonfly 920. She is built very lightly and provided with a tall rigging she has great performance, even close to the wind.

---
Additional contact details
Seller
Weise Yacht Sale
Contact
Herr Ralf Weise
Phone
+49.(0)421 460 457 32
Fax
+49.(0)421 460 457 39
Mobile
+49.(0)179 / 66 34 531
Internet
http://www.weise-yacht-sale.de
All details mentioned are on obligatory basis. Errors excepted. Alterations are subject to change.
BoatNet accepts no responsibility for false or erroneous information!
---
© BoatNet 1996-2018 - https://www.BoatNet.de