BUGARI 29M
Bugari (IT), Motoryacht, Gebrauchtyacht, Griechenland
€ 2.490.000,-
EUR 2.490.000,-

ATS 34.263.147,-
AUD 4.061.551,-
BEF 100.446.351,-
CAD 3.856.751,-
CHF 2.677.046,-
DEM 4.870.017,-
DKK 18.540.069,-
ESP 414.301.140,-
FIM 14.804.868,-
FRF 16.333.329,-
GBP 2.251.366,-
HRK 18.761.834,-
ITL 4.821.312.300,-
LUF 100.446.351,-
NLG 5.487.238,-
NOK 26.330.754,-
PLN 11.097.591,-
PTE 499.200.180,-
RUB 203.393.192,-
SEK 25.616.789,-
USD 2.849.571,-

Aktuelle Kurse vom 10.08.2020
EU versteuert, MwSt. nicht ausweisbar, MwSt. bezahlt, MwSt. inklusiv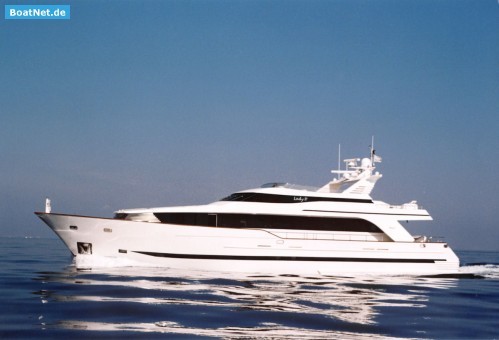 Baujahr: 2003
Erstwasserung: 0
Zustand: sehr gut
Länge: 29,00 m
Breite: 6,95 m
Tiefgang: 2,50
Gewicht: 162000 kg
Material Rumpf: Stahl
Material Aufbau: Stahl
Motoranzahl: 2
PS/kW: 925 / 680
Betriebsstunden: 1780
Frischwasser: 4500 l
Brauchwasser: 650 l
Kraftstoff: 28464 l
WC/Nasszelle: 0
Ausstattung & Aufteilung
Cabins: Owner no.1 Master suite and suite bathroom with Jacuzzi on main deck with Panoramic
seaview, Owner 2, Guasts 2x, 2 Crew Cabins
Sound Systems and TV: Flat LCD TV set's, DVD player, Radio FM/AM in all cabins, Cockpit Hi-power
speakers on main and upper deck (Bose Marine)
Cooking Devices: 4x Ceramic Cooking plates Miele
Oven: Miele large electric oven
Microwave Oven: Siemens microwave
Fridge: 3x Commercial inox referigerators
Freezer: Inox vreezer
Air Conditioning: AIR CONDITIONING 'CONDARIA' Tropical Series 240.000BTU + 40,000 BTU
Marine Air Fresh Air System with separate 21KW heaters for low winter temperatures.
Other: Flybridge deck with large teak dining table. Bar with refrigerator, icemaker, Spa tub/Jacuzzi,
barbecue, large all around sunbathing and sitting area with coffee tables. Large hydraulic adjustable
teak dining table for seating 8/10, Fitted rear seating with two coffee tables, Wet Bar with refrigerator
and separate ice-maker,Spa tub/Jacuzzi, 2 Electrical Bimini Tops, 2 Electrical Barbeques. Day head
is located forward of the dining area on the hallway to the Raised Pilothouse, 2x coffee makers. Audio
And Visual Equipment Satellite SEATEL Coastal 24/ 68cm TV Antenna for worldwide reception with 3
Domes,Bose Marine, Definitive and Boston Acoustic 'in wall' loudspeakers throughout decks, saloons
and all cabins Surveillance, security and 7 navigation cameras, Internet station plug in for PCs as well
as Wi-Fi through the yacht. Home cinema fitted on the main saloon and two owner cabins with Hi-End
equipment made by Nakamichi and REVOX/Switzerland. Plasma TV Revox 42' high resolution with
electric lift hidden system. 2 Multi-zone DVDs with wide variety of DVD movies Nakamichi Hi-End
amplifier 600W with 5 Hi-End speakers and subwoofer. Each cabin fitted with flat screen LCD TVs
including Nakamichi Hi-Fi stereo with CD and Radio and DVD multi-zone.
: 9 passengers + 4-5 crew
Navigation
Navigation Lights: Navigation lights indication and alarm panel.
Compass: 2x Compass, Gyro Compass with repeaters Plath- Germany
Depth: Depthsounder Color 2x JRC
Wind: Wind speed and direction
Autopilot: Plath/ Commercial Class A
: Wind/Direction/Force made by KVH,
Radar: 3x Color 120Nm, 96Nm, 24Nm. made by JRC. DGPS system with backup
GPS: D-GPS
VHF: VHF Commercial GMDSS 2x
: Navtex receiver
: Navigation center with Mini-M Satellilte Communication and Satellite Standard C system
Chart Plotter: 4x Plotter
Other: The classification of the American Bureau of Shipping requires the vessel to be fully equipped
with monitoring, safety and navigation system. Hailer and Intercom for all areas, Radios with desktop
charger. 2 fixed GSM telephones with High Gain external antennas. ERICSSON Telephone
Switchboard connected to GSM to all cabins including intercom and Panasonic fax-copier. IBM
computer with Marine LCD Display and WiFi System for all areas. 4 Color Plotters and worldwide
electronic charts. Digital Trac Stabilizer with color display and Zero speed capabilities. Bow and Stern
Thruster control, CCTV Marine display and controller up to 8 cameras. Engine Vision Caterpillar
computer with color touch display with all the engine parameters and black box connected to the
GPS. A/C Digital Main control and Hi-Fi Audio System for radio-cassette and i-Pod for main bridge as
well as for the upper deck controlled by computer
Sicherheit
Fire Extinguisher: Fire sensor alarm panel
Lady P is one of the finest custom build yachts, Classification under ABS certified, with transatlantic
range. Design by the naval architect Professor Ruggiero, and designer Mr. Sakiotis. She has a rigid
steel hull with aluminum superstructure. The interior has been personally attended by the owners and
hand crafted to the smallest detail. Cherry and Briarwood interior is complimented by the natural
leather and silk. She has been designed and built to provide the highest possible comfort and pleasure
while underway, at anchor or docked. Her Bullbow bow provides a smooth and vibration free cruising
and her Zero speed stabilizers provide a hassle free and very comfortable times on anchor. You will
not be able to easily find another yacht of her size with the all the amenities and systems that this
exquisite motor yacht provides.
Verkäufer: gewerblich
Arne Schmidt Yachts International e.K.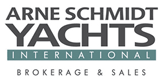 Arne Schmidt Yachts International e.K.
Pinneberger Str. 76 a
22880 Wedel
Deutschland
Herr Arne Schmidt
Telefon: +49(0) 41039676056
Telefax: +49(0) 41039676057
Mobil: +49 (0) 171 / 6411900

http://www.as-yachts.com