Beneteau First 14
Beneteau (FR), Segelyacht, Neuyacht, GB Ardrossan
€ 11.707,-
EUR 11.707,-

ATS 161.092,-
AUD 19.340,-
BEF 472.259,-
CAD 16.723,-
CHF 11.321,-
DEM 22.897,-
DKK 87.301,-
ESP 1.947.881,-
FIM 69.607,-
FRF 76.793,-
GBP 10.177,-
HRK 89.775,-
ITL 22.667.913,-
LUF 472.259,-
NLG 25.799,-
NOK 134.141,-
PLN 53.953,-
PTE 2.347.043,-
RUB 1.193.919,-
SEK 137.451,-
USD 12.406,-

Aktuelle Kurse vom 29.09.2023
EU versteuert - nein, MwSt. inklusiv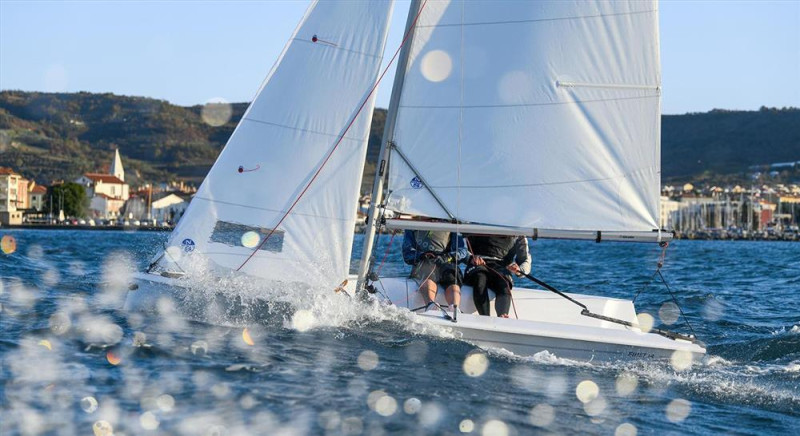 Baujahr: 2022
Erstwasserung: 0
Länge: 4,30 m
Breite: 1,70 m
Tiefgang:
WC/Nasszelle: 0
First 14 introduces the modern world of fast and planning dinghies to novice sailors. She is a light, fast and exciting dinghy designed with the sailor in mind. The promise of an accessible, easy-to-handle and, foremost, fun sailboat is fulfilled with the design, building technology and quality materials that also simplify maintenance.
Available for Delivery today with Full suit of North Sails including A-sail boom up cover and launching trolley.
Please call to arrange a viewing.
Dimensions and Designer
Hull length: 4,30 m
Hull beam: 1,70 m
Light displacement (MLC): 74 kg
CE Certification: D2
Mainsail (Dacron): 7,7 sqm
Jib (Dacron): 2,9 sqm
Gennaker (Nylon): 13,2 sqm
Building technology: vacuum-infused GRP
Air draft: 6,10 wm
Naval architect: Samuel Manuard
Industrial design: Gigodesign
Concept and R&D: Seascape



Manufacturer Provided Description
Building on the legacy of the legendary BENETEAU Wizz, the First 14 reproduces the exhilarating world of fast planing dinghies. Light, accessible, and easy to handle, the boat is perhaps best described as essentially fun, and the quality of her build simplifies maintenance and guarantees worry-free ownership.
Description
First 14 is an ideal entry-level dinghy for one or two sailors – a unique gateway to modern sailing that delivers an exciting sailing experience in an easy-to-handle and accessible package. Furling and self-tacking jib, wide and stable hull, and spacious open cockpit free of tangled ropes guarantee endless fun on the water. She is designed to be sailed without trapeze, and you can easily adjust the sail area depending on the wind strength or crew size without compromising sailing experience, thanks to two centre-board positions. With easy-to maintain deck equipment, alloy rig and Dacron sails she brings hassle-free ownership.
EASY HANDLING
Effortless-to-handle, entry-level dinghy thanks to smart design features – stable hull; big, clean and ergonomic cockpit; simplified control lines, furling and self-tacking jib, gennaker snuffer system, higher boom and no trapeze.
SOLO OR DOUBLE
Adaptable to single- and double-handed crews alike without compromising sailing experience, thanks to two centre-board slots and furling jib for on-the-go sail changes. Ideal for newcomer's introduction to sailing.
LIGHT AND FAST
Light, modern, wide and flat planning hull design and wave-piercing bow result in a very stable dinghy, built with high-quality vacuum infusion sandwich technology.
STABLE AND SAFE
Modern wide and flat hull shape with strong chains and piercing bow results in an extremely stable and safe dinghy which gives the crew sufficient hiking momentum. That's why she can be easily sailed without a trapeze.
TRANSPORTATION 
On land, she is light enough to be transported on the car's roof, so you will be able to take her everywhere with you. Thanks to flat bench design, she can be easily transported turned upside-down and dividable mast and equipment easily fit into the hull, so the car's backpack remains free for your family's belongings.
Launching trolley.
Features
Fully battened mainsail
Launching trailer
Furling genoa
Asymmetric spinnaker
Tiller
In this case we are acting as brokers only.  The Vendor is not selling in the course of a business.  Whilst every care has been taken in their preparation, the correctness of these particulars is not guaranteed.  The particulars are intended only as a guide and they do not constitute a term of any contract.  A prospective buyer is strongly advised to check the particulars and where appropriate at his own expense to employ a qualified Marine Surveyor to carry out a survey and / or to have an engine trial conducted, which if carried out by us shall not imply any liability for such engine on our part.
Note to seller and purchaser:  If the boat you are selling or purchasing is registered, please ensure that the registration is completed after the sale of the boat.  If the purchaser wishes to cancel the registration is the duty of the seller to contact the Registry and inform them that the registration is to be cancelled.  If the purchaser wishes to continue with the registration, it is the duty of the purchaser to complete the relevant forms and post off the bill of sale to the Registrar.
Mehr Angebote von Sunbird International Yacht Sales
Verkäufer: gewerblich
Sunbird International Yacht Sales

Beneteau First 14 - ID 2358618
Sunbird International Yacht Sales
Clyde Marina
KA22 8DB Ardrossan
United Kingdom
Andrea Martin
Telefon: +44 (0)1294 607074

http://www.sunbirdyachts.eu

Mehr Angebote von Sunbird International Yacht Sales