Beneteau First 38
Beneteau (FR), Segelyacht, Gebrauchtyacht, GB Ardrossan
€ 33.313,-
EUR 33.313,-

ATS 458.397,-
AUD 55.032,-
BEF 1.343.843,-
CAD 47.587,-
CHF 32.216,-
DEM 65.155,-
DKK 248.420,-
ESP 5.542.817,-
FIM 198.070,-
FRF 218.519,-
GBP 28.959,-
HRK 255.461,-
ITL 64.502.963,-
LUF 1.343.843,-
NLG 73.412,-
NOK 381.707,-
PLN 153.526,-
PTE 6.678.657,-
RUB 3.397.371,-
SEK 391.126,-
USD 35.303,-

Aktuelle Kurse vom 29.09.2023
EU versteuert - nein, MwSt. inklusiv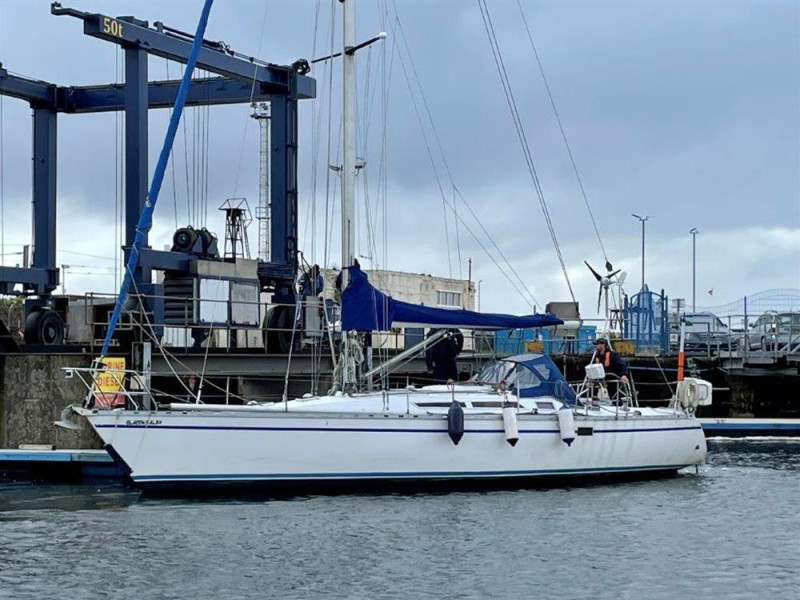 Baujahr: 1983
Erstwasserung: 0
Länge: 12,25 m
Breite: 3,95 m
Tiefgang: 2.1000
Gewicht: 8000.000 kg
Motortyp: 1 x Perkins 4018
Motoranzahl: 1
Kraftstoffart: Diesel
PS/kW: 43 / 32
Kraftstoff: 150 l
WC/Nasszelle: 0
The First 38 is a powerful ocean sailing yacht with superb finishing quality rare indeed in mass production. Whit perfectly functional accommodation designed for cruising in comfort for a crew of eight.
An elegant cruiser racer from the pen of Jean Berret, with stunning interior and design features by Philippe Starck. This  2 cabin version with 1 heads and forward workshop the most popular, with the larger aft cabins berth and roomy aft head. 
Construction
GRP Hull and deck with internal grid structure. 
Fin keel with counter balanced spade rudder. 
Engine and Mechanical
Engine                     
Access via stbd cabin hatch to unlock main hatch in cockpit which can be lifted free, access also from under companionway
Perkins 4108 diesel
New starter 2022
New fan belt 2022
Oil and filter changed regularly
Raw water pump impeller replaced regularly
Calorifiyer heated from engine cooling system
Aft engine bay extractor fan for engine bay, operates when ignition switch turned on
Electrical 
Main consumer battery.1 Starter Battery, sealed lead acid 2 consumer battery, 1 lead acid, 1 AGM, both sealed.
2 battery isolators, top is engine start battery, normal position 1 for start, pos 2 is alternate battery(main consumer)
Bottom Isolator is consumer, normal position 1, Pos 2 is third battery
Earth Isolator switch
Solar Panels 250 watts at various positions with 2 channel controller
Wind Turbine 200 watt wind generator with controller and mount connected to main consumer battery.
Mast and Rigging and Sails
Mast and Boom    
Masthead twin Spreader alloy mast and boom 
Rigging                                 
Standing rigging replaced replaced 2019
Running rigging is replaced as necessary
Topping lift Halyard
Main halyard , in stowed position at boom leach
Anchor light, try colour light, steaming Light Fwd deck light
Visual wind indicator
Tactic wifi wind sensor
Winches                              
2  single speed for main halyard and main sheet
4 Double speed for head sheets and spinnaker
Clutches                             
3 Main Halyard and main reefing lines on Starboard side
3 For Boom Vange Topping Lift and Main sheet
Sails
1 Main with 2 slab reefs set from cockpit. Fully battoned.            
1 Roller reefing Genoa with luff Fillers
1 Hank on Genoa
1 Spinnaker
Lazy jacks with sail storage    
Accommodation
Fwd Cabin                          
Storage for sails, and fully cushioned top. Varoius cupboards for storage
Starboard full length cupboard has sensors for autopilot and signal conditioner for water speed and depth sensor which are mounted underfloor in fwd cabin.
Various soul boards replaced.
Workshop
Vice and workbench, also storage for various equipment .
Main Cabin         
Television, can be operated from mains or 12 volts with antennae            
Dickens Diesel  heater and flue to upper deck.
Fully cushioned seating and folding leaf table. Through deck Mast
Galley                                  
Fully gimballed gas cooker with oven and 2 rings
Twin sink units with hot and cold taps and filtered water outlet with foot pump
Refrigerator compartment and separate compressor and 12 volt electrical motor.
Various cupboard spaces with closing doors
Nav Station                        
Map table and fold away seat, various maps and charts.
VHF DSC radio linked to garmin nav plotter for position
Main 100 amp circuit breaker for windlass.
Garmin GPS.
AIS transponder
Main Switch panel
Aux Switch panel for solar panels and Auto bulge pump
Solar panel dual channel charger.
12 Volt cigarette lighter  plug.
VHF am/fm commercial radio
Two Volt ammeters. Left hand voltmeter for starter or No 3 battery via switch on aux switch panel. Ammeter shows total solar Amps.
Right hand voltmeter for main consumer battery and wind turbine amps.
Both controlled by top and bottom switch o naux panel
Port aft Cabin                     
Fully cushioned above 100 gallon fuel tank
Full length cupboard
Heads                                  
Sea water flushing toilet. New base and seals 2020
Sink with hot and cold taps
Shower head with hot and cold taps
Storage cupboards.
Inventory
Electronics 
Helm wheel Instrument pod with Tacktic wind and speed and depth displays 
Autopilot controller
Mounts for two Tacktic wind depth indicators
Small voltmeter for power to helm intruments
Garmin 751 with fish finder, fully integrated with Autopilot and tactic     
Wind instruments 
G2 map of west coast of Scotland, needed  To get full use of Autopilot.
Vhf Radio Remote Controller connected into Stbd  Helm hatch connector
Autopilot Garmin GHP with electric actuator, fully integrated with Tactic wind and Nav  Plotter
Remote controller
Wind vane steering system
Chart Table 
VHF DSC radio linked to Garmin plotter for position
Garmin GPS.
AIS transponder
EPIRB 
Handheld Compass 
VHF am/fm commercial radio
Mooring and Anchoring 
Anchor One CQR with 50 meters of 10mm chain and 20 meters rope, and shock absorber. A few meters of 3/8 bb chain
Vertical windlass.
Assorted mooring lines and fenders 
Canvas Work 
Wind break canvas with clear view panels over companion way
Port and Starboard wind dodgers.
General 
Tender 2.6 meter dingy with two sets of oars, new 2020
Liferaft  4 Man, new 2018 will get serviced
Recent work
Standing rigging replaced 2019 (Clyde Rigging)
Sacrificial strip on Genoa 2019
Seacocks replaced 2 in heads, 1 in Galley 2020
Several floor boards replaed 2021
New Engine starter 2022
New fan belt 2022
New Garmin April 2017
Features
Lazy bag
Spinnaker - symétrique avec tangon et chaussette
Marine head
Mainsail cover
Battened mainsail
Solar panel
Electric bilge pump
Log speedometer
Manual bilge pump
Steering wheel
Genoa - usé à 30 %
Autopilot
Wind generator
Gangway
Depthsounder
Tender
Gps
Wind speed and direction
Lazyjacks
Spray hood
Vhf - Qty: 2
Plotter
Liferaft
Heating
Radio
Oven
In this case we are acting as brokers only.  The Vendor is not selling in the course of a business.  Whilst every care has been taken in their preparation, the correctness of these particulars is not guaranteed.  The particulars are intended only as a guide and they do not constitute a term of any contract.  A prospective buyer is strongly advised to check the particulars and where appropriate at his own expense to employ a qualified Marine Surveyor to carry out a survey and / or to have an engine trial conducted, which if carried out by us shall not imply any liability for such engine on our part.
Note to seller and purchaser:  If the boat you are selling or purchasing is registered, please ensure that the registration is completed after the sale of the boat.  If the purchaser wishes to cancel the registration is the duty of the seller to contact the Registry and inform them that the registration is to be cancelled.  If the purchaser wishes to continue with the registration, it is the duty of the purchaser to complete the relevant forms and post off the bill of sale to the Registrar.
Mehr Angebote von Sunbird International Yacht Sales
Verkäufer: gewerblich
Sunbird International Yacht Sales

Beneteau First 38 - ID 2367426
Sunbird International Yacht Sales
Clyde Marina
KA22 8DB Ardrossan
United Kingdom
Andrea Martin
Telefon: +44 (0)1294 607074

http://www.sunbirdyachts.eu

Mehr Angebote von Sunbird International Yacht Sales