Beneteau First 44.7
Beneteau (FR), Segelyacht, Gebrauchtyacht, GB Ardrossan
€ 103.435,-
EUR 103.435,-

ATS 1.423.297,-
AUD 164.874,-
BEF 4.172.558,-
CAD 151.124,-
CHF 111.201,-
DEM 202.301,-
DKK 769.345,-
ESP 17.210.136,-
FIM 614.997,-
FRF 678.489,-
GBP 88.121,-
HRK 775.880,-
ITL 200.278.087,-
LUF 4.172.558,-
NLG 227.941,-
NOK 1.028.397,-
PLN 475.674,-
PTE 20.736.856,-
RUB 8.717.651,-
SEK 1.047.213,-
USD 119.987,-

Aktuelle Kurse vom 18.10.2021
EU versteuert - nein, MwSt. inklusiv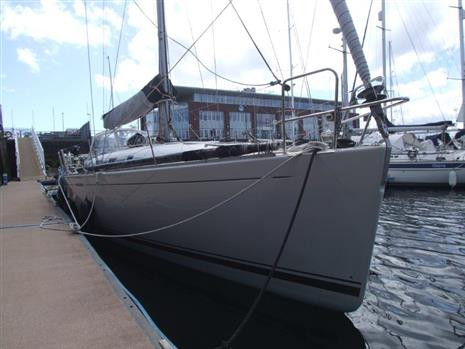 Baujahr: 2004
Erstwasserung: 0
Länge: 13,67 m
Breite: 3,98 m
Tiefgang: 2.6000
Gewicht: 9785.000 kg
Motortyp: 1 x Yanmar 4JH4CE
Motoranzahl: 1
Kraftstoffart: Diesel
PS/kW: 55 / 40
Kraftstoff: 200 l
WC/Nasszelle: 0
Sunbird International Yachts Sales are pleased to present to the market Lisa 
RORC yacht of the year in 2017 and RORC Season points championship overall winner 2016/17
Large Sails inventory, Up-rated winches,  3 frame sprayhood, excellent racing and cruising sails The ideal boat for fast conformable cruising and IRC racing 
Description
The feedback provided by over 550 owners of the First 40.7 has been instrumental for Farr Yacht Design create the Beneteau First 44.7. The First 40.7, designed by the same team, is a world best seller with a record of race titles, including an IMS World Championship. The 44.7 offers rare versatility, outstanding value, and excellent sailing performance.
Dimensions
Design: Farr Yacht Design.
Length overall: 13.70 m.
Hull length: 13.35 m.
Waterline length: 11.50 m.
Maximum beam: 3.97 m.
Light displacement: 9785 Kg.
Air draught: 20.70 m.
Draught – Deep keel option: 2.65 m – lead 3410 Kg.
Engine Power: 55 HP.
Fuel tank capacity: 200 L.
Water tank capacity: 400 L (+ 140 L an option).
CE certification:A12 / B12 / C12.
Construction
Hull
The hull is made of solid GRP laminate. Hull capping and occasional reinforced areas (keel, rudder, chain plates, deck line), strengthen the overall structure.
The hull is optimally protected from osmosis phenomena, thanks to the application of vinylester coating resin and Awlgrip Epoxy
A structural solid laminate inner structural grid is achieved through the use of biaxial and unidirectional material. It is glued to the hull and randomly laminated. Its structural function is important, since it makes it possible to pick out all the pressure and stress points (chain plate, shroud, keel, and rudder tie rods, etc.) guaranteeing even distribution and less strain on the hull. It also ensures a good finish to the bilges and simplifies cleaning and maintenance.
The structural bulkheads made of marine plywood are sealed to the hull for extra rigidity.
The hull light grey Sprayed with Awlgrip 2013
Deck
The deck is built in sandwich (fibreglass / balsa / GRP) for an optimal rigidity-lightness ratio. There are solid laminate reinforcement areas under the deck gear (winches, tracks, chain plates, cleats).
All the working and movement areas on the deck have been given a non-skid gel coat pattern and teak side decks. The whole of the deck has been given a solid laminate inner lining, including the structural beams, which are sealed to the deck to give a perfect finish (integrated lighting, finish, access to deck gear fitting screws, etc.)
She is fitted with teak seat tops .
Deck and Hull Joint
The joining of the deck to hull is guaranteed in three ways:
The deck is mechanically fitted to the hull by screws fastening the teak toe-rails and various other items of deck gear (cleats, pad eyes, chain plates, etc.). In addition, the deck is glued to the hull (polyurethane adhesive) to guarantee better resistance. Finally, a joint is added to guarantee its watertightness.
Keel
The keel is made of antimony and lead for better weight-volume ratio.
The deep keel has greater draught and has no bulb, therefore increasing hydrodynamic performance. To ensure their durability, the keels are factory treated (anti-corrosion and improved finish thanks to coating and paints made from an epoxy component) before assembly.
The keel is fastened to the boat by stainless steel screws and counterplate.
Rudder
The rudder is of the underhung and balanced type. It is made of fibreglass and polyurethane foam sandwich.
The rudder stock is constructed using injection techniques and is built of solid laminate from biaxial and unidirectional materials.
The rudder stock turns on self-aligning swivel bearings, equipped with ball bearings and rollers, making it more sensitive in responding to the helm.
The helm system is of the metal steering cable and chain type. It is linked to the communicating aluminium sector of the rudder for better sensitivity / weight ratio for both.
The large diameter carbon steering wheel (1700), in a self- emptying pit at the bottom of the cockpit, is mounted on self-aligning rudder bearings on rods for better response at the helm.
Mooring
8 aluminium cleats (300 mm) and their S/S protections are bolted to the deck/hull joint: 2 stem cleats. 4 intermediary spring line cleats for greater ease of use. 2 stern cleats
Pushpit and Lifelines
A pulpit with 4 legs is bolted to the deck/hull joints. The pushpits are equipped with opening lifelines and take ensign staffs and lifebuoy supports. The boat is surrounded by double lifelines supported by 6 simple stanchions and 4 double stanchions (for small gates). These are made of stainless steel and are removable (h 650 mm) and are equipped with a double line of stainless steel lifelines with turnbuckle adjuster.They are fastened to wide stainless steel base plates, bolted through the deck/hull joint. Untreated bolted teak toe-rails, surround the deck. Two stainless steel grab rails are bolted to the top of the coachroof for leaving the cockpit.
Cockpit
The cockpit is laid out in such a way that navigation and manoeuvring are easier: lots of storage space, sheets and halyards led back to the cockpit, etc.
The cockpit has 5 storage lockers: (the locker lids are made using injection techniques which gives them a perfect finish). 2 extra deep stern lockers providing ample storage space. 2 easy to access lateral lockers under the cockpit seats. 1 storage box capable of holding two large capacity gas bottles.
There is a specific storage location, which is easy to get at, specially designed for the life raft (under the removable helmsman's seat).
The cockpit seats are covered in teak and the sides forming the back are reclining for extra comfort.
They are divided to provide the helmsman with better seating space (lined with teak).The seats are edged with "drainage grooves" for good water evacuation.
The cockpit is self-draining.
The steering wheel is made of black carbon It is fixed to a polyester base acting as a foot rest for the helmsman and a stand for the electronic compass.
The engine control panel is to starboard. An articulated chain-plate used for hanging safety belt hanks can be found right beside the companionway.
Transom and Bathing Platform
The transom has a battened teak bathing platform, with a removable articulated bathing ladder (can be stored in one of the cockpit lockers), with teak steps, a step ladder for deck access.
A small cold shower head and a quay jack are attached to the transom in the standard version. The stern light is fastened to the transom
Engines and Machnicals
Engine
Yanmar 4JH4CE with 55HP engine with Sail Drive transmission.
Ventilated and soundproofed engine compartment, engine on mounting built into structure of the hull.
Seawater filters.
Fully Serviced July 2020
Propeller(s)
2 bladed racing Eliche Radice
3 Bladed Max prop (very efficient and higher cruising speed)
1 rotomoulded 200 L diesel fuel tank, located under the starboard aft berth and fitted with an electric gauge, sediment filter reservoir and remote shut-off valve.Engine start and control panel located outside near the helm position. Spinlock Flush Racing engine control lever built into the cockpit coaming.
Aluminium filler cap located on deck aft of the cockpit.
Electrical
The 12 V electric circuit is supplied by two 140 A lights and service batteries (2017)
The battery isolation switches (+/-), located in the port aft cabin, protect the circuit.
A voltmeter and ammeter enable good management of the battery installation.
Specific beams are inlaid in the deck to supply the integrated lighting in the deckhead as well as various electrical appliances (pumps, windlass, navigation lights, etc.).
Pre-cabled sheaths are positioned to make it easier to install options.
Batteries and Charging
By alternator attached to the engine. 220 V shore power supply (protected by a circuit breaker).
Electric Panel
A 12 V backlit electric panel, 16 functions (with labels and identification) is located above the chart table.
A cigarette lighter socket is located on the panel.
The electric panel provides power consumption information: the capacity of the various tanks can be visualized with a water gauge using a selector knob.
Lighting and Sockets
21 halogen lights (reading spotlights) diffuse light for greater comfort inside.
5 power outlets have been installed (in the cabins, galley and above the chart table). Navigation lights: Anchor light.and Tri-colour light. Steaming light. Deck light and
Water System
All the sea cocks are made of bronze and are equipped with a quarter turn stop cock.
Draining and Bilge Pumps
A cesspit located in the keel permits the evacuation of water located in the bilge, using the bilge pump. Two electric pumps for shower compartment drainage.
Freshwater
The pressurized freshwater system (electric pump with filter) has a standard capacity of 400 L (two polyester tanks located in the hull structure at the centre of the boat have 100 L each and a 200 L roto-moulded tank located under the berth (aft port side). Each of the tanks has its own filler hole. They can be selected using quarter turn stopcocks for separate use. The semi-rigid piping is of food grade.
Hot water
Hot water in the standard version is provided by a 42 L hot water tank working on mixed mode (or by electric resistance supplied by the 12 V circuit, or through the action of a heat exchanger linked to the engine circuit) 240v Shore power water heating. The taps and shower head.
Mast and Rigging
Anodised aluminium tapered mast, with double aft swept spreaders by Sparcraft Performance Sparcraft performance Boom with Gas Sparcraft Gas Vang strut.
DYFORM rigging. replaced 2013 Dyneema Backstay 2014 with spare original Dyform still available.
A mainsheet ball bearing traveller car is fixed over the beam of the cockpit, to the fore of the steering wheel console, providing both better control of the mainsail and easier handling when shorthanded. The car is equipped with a to-and-fro system with jammers.
Removable Facnor genoa furling drum.
Rod Forestay with Tuff-Luff fitted.
12 Spinlock jammers are attached to either side of the companionway for all control lines leading back to the cockpit: 2 reef lines, 1 main foot, 1 main halyard, 1 jib halyard, a jib furler line.4 harken control line clam cleats
All blocks are ball bearing blocks.
IRC optimised Carbon Spinnaker pole and gear.
Custom Jib In-hauler system – calibrated to sheeting angles
Winches
2 x H64.2STA Genoa sheet winches.
2x H44.2STA Halyard winches.
2x H44.2STA spinnaker winches.
Sails and Covers
Racing Sails Pre 2015
One Sails Genoa 1 Millennium Carbon light
One Sails Genoa 2 Millennium Carbon Medium
UK Sails Carbon No 1 Genoa
UK Sails Carbon No 2 Genoa
UK Sails Carbon No 3 Jib
UK Sails Carbon Mainsail 2009
Saunders Sails No 4 Kevlar Jib
Masthead Spinnakers
Banks Sails S2 Runner 2013
Doyle sails S3 Runner 2012
North A3 (Asymmetric) 2012
Banks Sails Air 650 Reefing A3/A5 2017
Fractional Spinnakers
Banks Sails VMG 2012
UK Sails S4 2010
Cruising sail inventory
Banks Sails Double Taffeta main (Fully Battened) 2010
Banks Sails Roller Furling Genoa 2010
Banks Sails Cruising Chute with Snuffer 2012
Storm Trysail - orange
Storm Jib – orange
Banks Sails Stack Pack and Lazy jacks for cruising
One Sails Mainsail cover
Sprayhood
Carbon Wheel Custom protective wheel and spin pole bags
Accommodations
Pearwood stained woodwork. Solid wood fiddles and mouldings.
Moulded wood doors and frames. These are wide to allow easy movement around the boat. 'Bird's beak' door locks with independent locking.
Cabin mattresses have removable covers and saloon cushions are covered with easy-maintenance upholstery for durability.
'Hydropont' type laminated soles (marine quality) with black inlay strip.
All Cabins and Saloon are equipped with Lee Cloths and the saloon has a custom carpet to protect the floorboards and improve grip.
Forward Cabin
Headroom: 1.92 m to 2.01 m.
Portholes and hatches: 2 size 30 deck hatches with roller blind. 2 size 1 hinged porthole
Starboard: Double bed with 2 drawers 2 storage lockers are located under the bed.
2 lockers with 2 levels of storage compartments is located under the mattresses (one of the lockers holds the water tank).
Lateral storage spaces run the length of the hull both port side and starboard, as well as the length of the bulkhead at head of the bed.
Two swivelling lights in the bed head as well as 2 overhead spotlights.
Portside: A large cupboard with 2 doors (wardrobe and shelves) as well as a dressing table (with folding table top, 1 storage space with door and 1 drawer). 1 settee with stowage locker. Lighting is provided by 1 swivelling light above the seat and overhead lighting. The headliner is upholstered on the inside of the hull.
The wooded mast locker can be dismantled.

Forward Heads
Headroom: 1.87 m.
1 size 44 hinged hatch with rolling blind.
Heads with complete polyester shower unit, with optimum water evacuation.
Manual marine head with large bowl and ABS flap and shower seat. Low polyester bathroom cabinet with elliptic washbasin, drain, mixer tap and flexible shower hose.
It is fitted with a handrail/towel rail.
A varnished wooden door in a low position provides access to the stop cocks.The inside of the cabinet door is fitted with accessories (towel rail, etc.).
Saloon
Headroom: 2.03 m.
Starboard saloon: 1 fixed hull porthole. 2 size 30 and 44 hinged hatches with rolling blind. 2 size 4 hinged portholes with blind on side of coachroof.
U-shaped 2.3 m seat with reclining backs. Storage space behind the backrests (4 doors). Bar for large litre capacity bottles. Storage lockers under the seat Storage furniture with 4 doors and bar above the backs.
Oval 1.34 m x 0.85 m saloon table in varnished inlay with bar unit. Table legs made of wood and aluminium bases.
Central removable hinged seat. All seats come with cushions.
Portside saloon: 1 fixed hull porthole. 2 size 30 and 44 hinged hatches with roller blind. 1 size 4 hinged porthole with blind on side of coachroof.
1 crockery cupboard provides rational storage space: 3 drawers, storage using shelf and baskets accessed by 3 doors. Lateral storage space with 2 doors above the crockery cupboard.
Two wooden handrails are provided to make movement easier when heeling. The polyester inner lining of the deck with its wooden lathing integrates overhead lighting of the galley, the saloon and the chart table. Separate switches allow you to select the lighting.
Starboard Galley
Headroom: 1.96 m.
1 size 4 hinged porthole with blind on side of coach roof.
Laminated white worktop. High moulded wood fiddle around the worktop to prevent objects fro m falling.
Double sink with mixer tap. Seawater foot pump or refrigerated cabinet drain by three-way sluice.
Polyester 110 L insulated refrigerated cabinet, which opens fro m the top.
Wastebin on do or under worktop. Cabinet with storage shelves under worktop.
Gimballed Plastimo 2 burner hob and oven S/S stove protection bar/dish cloth rail.
Bottle storage. Lateral storage spaces with doors along the hull above the worktop. and a S/S paper holder. Crumb collector in flooring.
Portside Chart Table
Headroom: 2.00 m.
1 size 4 hinged porthole with blind on side of coachroof.
Varnished chart table (0.80 m x 0.60 m) with a moulded wood fiddle. Storage locker under the chart table seat. Storage cabinet with shelf under table top. Storage (6 wall pockets and pennant holders) at the back of the chart table.
A large panel holds navigational instruments and the electric panel.
A radio with CD player is wired to 2 speakers in the saloon (1 port side 1 starboard).
Companionway
Headroom: 1.98 m.
1 sliding companionway hatch in 14 m m Perspex tinted green. The varnished wood companionway with moulded non-skid wooden steps, is hinged to a gas jack making access to the engine easier and totally safe.
S/S guardrail with leather covering is attached to each side of the companionway making movement easier.
Portside Aft heads
Headroom: 2.07 m.
1 size 4 hinged porthole with blind on side of coacroof.
Heads with complete polyester shower unit. Manual marine head with large bowl and
A BS flap and shower seat. Lo w polyester bathroom cabinet with elliptic. washbasin, drain, mixer tap and flexible shower hose.
Varnished wooden do or provides access to the stop cocks and accessories.
1 varnished wooden door gives access to the hot water tank. Shower empties with electric pump.
Aftcabins
Headroom: 1.95 m.
2 x 1 size 1 hinged portholes with blind on side of coachroof.
2 x 1 size 1 hinged portholes with blind on vertical sides of cockpit. 2 x 1 fixed hull portholes. 2 x 1 2.00 m x 1.35 m double beds with foam mattress.
2 x 1 do or storage unit (1 wardrobe 2 shelves).
2 x 1 open storage unit with shelf. Lateral starboard and port side storage space along the hull. Shelves located between the two aft cabin providing a good quantity of storage space in each of the cabins.
2 x 1 swivelling lights and 2 x 1 overhead lights diffusing light in each cabin.
Heating
Eberspacher heating
Inventory
Electronics
Raymarine ST system with C 80 Plotter
3 x 20:20 style mast instruments
2 X Multi Repeaters
PC Data connection cables
Icom DSC VHF radio – with cockpit speaker
Raymarine ST6001 Pilot with cockpit control unit
Raymarine Remote Smart controller for Pilot can be used from the chart table.
Digital Yacht AI50 Class B AIS Transponder / Display
Furuno Navtex.
Miniplex wifi output.
Sony CD/FM/IPod Aux with internal speakers
Waterproof Cockpit speakers with VHF/Stereo input switch
Plastimo steering Compass Isolation switches
Television DVD Player with Antenna Booster and Antenna
LED interior lighting throughout
Tri-colour (LED), Steaming light and Lower Nav-lights (LED)
General
Electric Anchor windlass with Delta anchor and chain.
Fenders and warps
Sprayhood
Safety Kit
Horseshoes and lights
Throwing lines
Jackstays
3 x Fire Extinguishers
Fire Blanket
Emergency tiller
Manual and Electric Bilge pump
Features
Asymmetric spinnaker
Refrigerator
Cd player
Plotter - Raymarine C80
Autopilot - raymarine T 6001
Spinnaker pole - Carbon IRC optimized
Oven
Compass
Hot water
Depthsounder - raymarine ST 60
Mainsail cover - One Sails
Electric bilge pump
Wind speed and direction - Raymarine ST 60
Spray hood - 3 frame
Shore power inlet
Cockpit speakers
Dvd player
Log speedometer - Raymarine ST 60
Vhf - Icom ASN
Marine head
Teak cockpit
Steering wheel - Carbon Classic Design
Spinnaker
Repeater
Navigation center - Raymarine ST 60
Manual bilge pump
Gps
Battened mainsail
Battery charger - 20Amp
Tv set
Furling genoa
Genoa
Lazy bag - Banks Sails for Cruising
Lazyjacks
Heating
Radio
In this case we are acting as brokers only. The Vendor is not selling in the course of a business. Whilst every care has been taken in their preparation, the correctness of these particulars is not guaranteed. The particulars are intended only as a guide and they do not constitute a term of any contract. A prospective buyer is strongly advised to check the particulars and where appropriate at his own expense to employ a qualified Marine Surveyor to carry out a survey and / or to have an engine trial conducted, which if carried out by us shall not imply any liability for such engine on our part.
Note to seller and purchaser: If the boat you are selling or purchasing is registered, please ensure that the registration is completed after the sale of the boat. If the purchaser wishes to cancel the registration is the duty of the seller to contact the Registry and inform them that the registration is to be cancelled. If the purchaser wishes to continue with the registration, it is the duty of the purchaser to complete the relevant forms and post off the bill of sale to the Registrar.
Mehr Angebote von Sunbird International Yacht Sales
Verkäufer: gewerblich
Sunbird International Yacht Sales

Beneteau First 44.7 - ID 1944642
Sunbird International Yacht Sales
Clyde Marina
KA22 8DB Ardrossan
United Kingdom
Andrea Martin
Telefon: +44 (0)1294 607074

http://www.sunbirdyachts.eu

Mehr Angebote von Sunbird International Yacht Sales