Buchanan 30
Segelyacht, Gebrauchtyacht, GB Levington
€ 21.338,- EUR 21.338,-

ATS 293.617,-
AUD 31.775,-
BEF 860.773,-
CAD 28.055,-
CHF 21.025,-
DEM 41.734,-
DKK 158.852,-
ESP 3.550.344,-
FIM 126.870,-
FRF 139.968,-
GBP 18.139,-
HRK 160.363,-
ITL 41.316.129,-
LUF 860.773,-
NLG 47.023,-
NOK 218.936,-
PLN 102.024,-
PTE 4.277.885,-
RUB 1.216.042,-
SEK 225.779,-
USD 21.523,-

Aktuelle Kurse vom 10.08.2022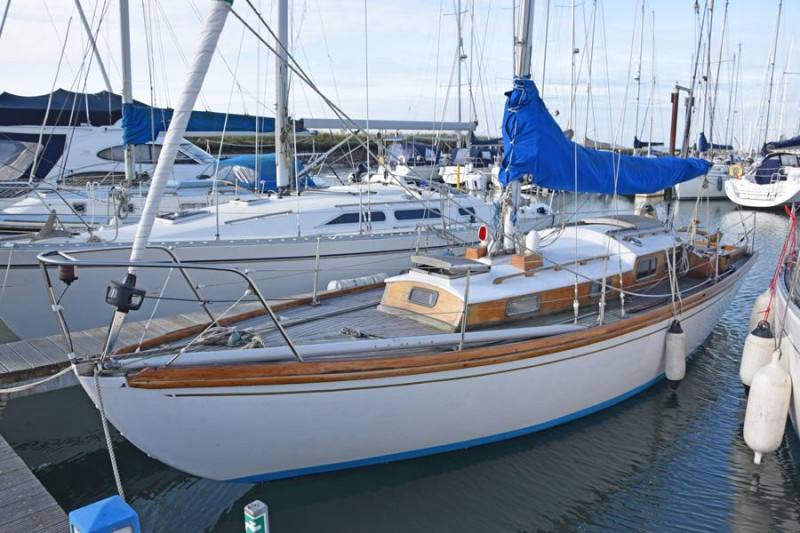 Baujahr: 1960
Erstwasserung: 0
Länge: 9,00 m
Breite: 2,00 m
Tiefgang: 0
Gewicht: 5480 kg
Motortyp: Beta BD722
Motoranzahl: 1
Kraftstoffart: diesel
PS/kW: 20 / 15
WC/Nasszelle: 0
Trailer: ohne Trailer
This Buchanan 30 would be ideal for joining the Classic regatta circuit.  She has been optimised for racing and has the quick, well-mannered performance we all expect from an Alan Buchanan design.  Lovely to look at and sails like a dream, Rising Hope will attract attention wherever she goes.
Viewing by appointment through our Suffolk Office 01473 659 681. 
Accommodation
The accommodation offers up to four berths.  In the forecabin, two single berths are used for stowage, but if fitted with cushions would give two more berths. Opening hatch to foredeck.  Marine WC to starboard under berth.  Full width galley.  Origo two burner alcohol hob.  Stainless steel sink with electrically pumped water supply with manual back up.  In saloon, settee berths port and starboard.  Chart table forward to port.  Two quarter berths.

Mechanical Systems
Located under the companionway, Beta BD722 three cylinder 20hp diesel engine.  Electric start.  Freshwater cooled via heat exchanger.  Shaft drive to Darglow three bladed feathering propeller.  Single lever control.  

Electrical Systems
2 x 12 volt batteries Alternator charging

Spars & Sails
Masthead rigged sloop.  White painted aluminium deck stepped mast with T-Profile carbon/epoxy/wood boom.  Stainless steel standing rigging (2003).  Terylene running rigging.  Slab reefing mainsail.  Harken headsail furling system.  Two primary sheet winches.  Two secondary winches.  Two halyard winches.  Spinnaker pole. Mainsail  - One Sails  -  2010  -  excellent Furling genoa  -  One Sails  -  2012  -  excellent Spinnaker  -  One Sails  -  excellent Asymmetric  -  Parker & Kay  -  good

Deck Equipment
CQR anchor with chain Mainsail cover Teak coachroof grabrails Various warps and fenders Full winter cover

Navigation Equipment
PLastimo steering compass Autohlem depth Autohelm boatspeed and log Clock and barometer Navigation lights

Safety Equipment
Fire extinguisher Jackstays Cockpit harness points Deck light Horseshoe lifebuoy with light Manual bilge pump Electric bilge pump Radar reflector

Construction
Built in 1960 to a design by Alan Buchanan.  White painted mahogany planked hull. Canadian Rock Elm/Oak frames.  Copper fastened. Varnished toe rail.  Teak laid deck with varnished mahogany coamings.  Long keel with cast iron ballast.  Keel hung rudder.  Tiller steering.  Aft self draining cockpit.

Disclaimer
The company normally acts as broker for the vendor who unless otherwise stated is not selling in the course of a business. Whilst every care has been taken in the preparation of these particulars the correctness is not guaranteed and they are intended as a guide only and do not constitute a part of any contract. A prospective buyer is strongly advised to check these particulars and where appropriate and at his own expense to employ a qualified marine surveyor to carry out a survey and/or to have an engine trial conducted which if conducted by us shall not imply any liability on our part.
Mehr Angebote von Clarke & Carter Interyacht Ltd
Verkäufer: gewerblich
Clarke & Carter Interyacht Ltd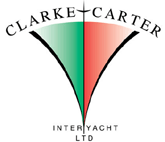 Clarke & Carter Interyacht Ltd
Suffolk Yacht Harbour Levington
Ipswich, Suffolk IP10 0LN
United Kingdom
Suffolk Office
Telefon: +44 (0)1473659681
Telefax: +44 (0)1473659758

https://www.clarkeandcarter.co.uk/

Mehr Angebote von Clarke & Carter Interyacht Ltd