Endurance 37
Segelyacht, Gebrauchtyacht, GB Ardrossan
€ 17.774,-
EUR 17.774,-

ATS 244.576,-
AUD 27.779,-
BEF 717.001,-
CAD 27.186,-
CHF 19.142,-
DEM 34.763,-
DKK 132.213,-
ESP 2.957.345,-
FIM 105.679,-
FRF 116.590,-
GBP 15.756,-
HRK 134.386,-
ITL 34.415.263,-
LUF 717.001,-
NLG 39.169,-
NOK 182.745,-
PLN 80.582,-
PTE 3.563.367,-
RUB 1.581.343,-
SEK 179.531,-
USD 21.517,-

Aktuelle Kurse vom 23.01.2021
EU versteuert - nein, MwSt. inklusiv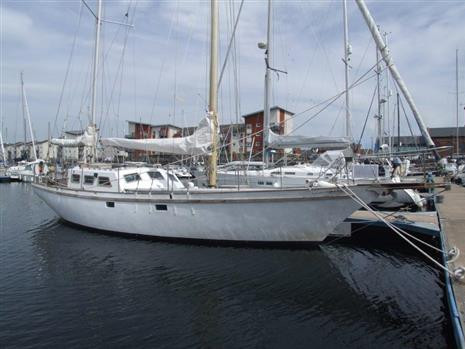 Baujahr: 1981
Erstwasserung: 0
Länge: 11,28 m
Breite: 3,53 m
Tiefgang: 1.7780
Motortyp: 1 x Perkins 404C
Motoranzahl: 1
Kraftstoffart: Diesel
PS/kW: 50 / 37
Kraftstoff: 77 l
WC/Nasszelle: 0
Endurance 37, ferro cement, a long distance cruiser or liveaboard. Built in 1981, current owners have used her as a liveaboard for the last 13 years who have cruised her extensively in West Coast of Scotland.
Owner's Remarks
Professionally built Ferro-cement Endurance ketch built at Benbridge Boatyard (Isle of Wight) in 1981. She is a fine example of ferro construction, much admired by all. She was commissioned to a high standard build for a circumnavigation which she successfully completed after her launch in the Eighties. She was built using teak throughout, including locker framing and full teak decks.
She was fitted with a new Perkins 404C 50hp engine in 2007. New stainless steel rigging fitted in 2012. She has a solid fuel stove fitted with central heating from a back boiler, 220watts of solar panels with an inverter to enable 240v power. Making her a fantastic liveaboard vessel.
Sails are old but in working condition, for both masts, the hull is in need of a paint job and there are areas of the cockpit in need of attention in her plywood, along with spots of the deck needing attention too.


Fancy free is a very strongly built boat, her hull is in very good condition and structurally she is completely sound.
The structural framing of the boat, even the frames of the inner lockers is entirely of teak in good condition. However, the marine ply structure of the cockpit and the bulkhead between cockpit and saloon has a fair amount of rot in it. I have cut out all the rot I could find and inserted new marine ply and filler, this should keep her structural integrity for at least a couple of years, but ultimately a more comprehensive repair will need to be carried out.
The teak deck was completely recaulked when we bought her and any defects rectified. However in subsequent years patches of rot have appeared in the teak, these are obvious as I have treated them with wood hardener as a temporary fix to stop further degradation and leakage through the deck.
The engine was new in 2007 and although we have no record of the working hours they are fairly low. It is a totally reliable engine and always starts first time, it has always had regular annual filter and oil changes.
The sails are old but quite serviceable, could benefit from a valeting.
As a live aboard she is very well organised, she is self-sufficient in DC power having 120W solar panels and an inverter for AC power. A Boatman wood burner with back boiler provides central heating throughout. The calorific supplies hot water when the engine is used but the mains element needs replacing. Running water is supplied via a foot and electric pump. All skin fittings and seacocks were replaced just after we bought her and are still all in good working condition. In the thirteen years we have owned her she has been in continual use cruising and as a liveaboard, no prolonged periods of stagnation.
When all repairs are carried out she would be an excellent live aboard or world cruiser, she has previously done a world circumnavigation in her early years.
We will be really sad to see her go but old age has got the better of one of us..
Description and Construction
1981 Built ferro cement Endurance 37
LOA 37ft
LOA 29ft
Beam 11ft6
Draft 5ft8
13 tonnes
Iron encased long keel, keel hung rudder
Teak deck
Marine ply superstrucure
Wheel steering
Engine
Perkins 404C - new 2007
Engine hours approx 100, no engine hour metre. This is the owner's estimation.
Last serviced 2017
Freshwater cooled
Cruising speed 6 knots, max speed 7 knots
Shaft drive to 3 bladed fixed prop
3 x 12v batteries (2013 estimated)
Charged via solar and engine
Solar panels 120 Watts
Shore power plus cable
Tankage:
70 gallons water capacity
17 gallon fuel tank
Sails and Rigging
Rigging:
Standing rigging replaced 2012
Running rigging replaced 2006
Slab mainsail reefing
Spinnaker and pole.
Harken Roller furling system

Sails:
Battened main, by Lucas
Battened mizzen, by Gowen
Overlapping Genoa, furling
Mizzen staysail
2 x spare Genoas
Spinnaker
Age of all sails is unknown. Owner has stated they are old but serviceable.
6 x Winches,some 2 speed some single speed Primary's are two speed. All Lewmar.
Accommodations
Sleeps five in three cabin, comprising of one double and three single berths.
Large, spacious saloon, stepping down to mid cabin with heads then forward to starboard, two single bunks, then on to for'cabin with large double.
Plastimo 2 burner gas cooker with oven and grill.
The shower is not connected, there is pipework, but no shower.
Multi fuel central heating.
Inventory
CQR anchor
Danforth type anchor plus chain and warp
Simpson Lawrence manual windlass
Sestrel Compass
NASA Echosounder
Garmin GPS 128 fixed
Horizon Eclipse VHF
Solar panels 120 Watts
Boarding ladder
2 x manual bilge pumps
Warps and fenders
Nav lights
Boathook
Dodgers
Clock and barometer
Fire extinguishers, may need servicing
Fire blanket
Lifering
Radio/cassette
Features
Spinnaker pole
Solar panel - 120 watts
Oven
Battery charger
Hot water
Mainsail cover
Battened mainsail
Heating
Teak cockpit
Vhf
Shore power inlet
Furling genoa
Swimming ladder
Gps
Teak sidedecks
Log speedometer
Spinnaker
Manual bilge pump - x2
Marine head
Depthsounder
Steering wheel
Radio
Contact Information
Boat can be viewed 7 days per week, please contact our office to arrange an appointment.
In this case we are acting as brokers only. The Vendor is not selling in the course of a business. Whilst every care has been taken in their preparation, the correctness of these particulars is not guaranteed. The particulars are intended only as a guide and they do not constitute a term of any contract. A prospective buyer is strongly advised to check the particulars and where appropriate at his own expense to employ a qualified Marine Surveyor to carry out a survey and / or to have an engine trial conducted, which if carried out by us shall not imply any liability for such engine on our part.
Note to seller and purchaser: If the boat you are selling or purchasing is registered, please ensure that the registration is completed after the sale of the boat. If the purchaser wishes to cancel the registration is the duty of the seller to contact the Registry and inform them that the registration is to be cancelled. If the purchaser wishes to continue with the registration, it is the duty of the purchaser to complete the relevant forms and post off the bill of sale to the Registrar.
Mehr Angebote von Sunbird International Yacht Sales
Verkäufer: gewerblich
Sunbird International Yacht Sales

Endurance 37 - ID 1632493
Sunbird International Yacht Sales
Clyde Marina
KA22 8DB Ardrossan
United Kingdom
Andrea Martin
Telefon: +44 (0)1294 607074

http://www.sunbirdyachts.eu

Mehr Angebote von Sunbird International Yacht Sales