Fairey Christina 25
Motoryacht, Gebrauchtyacht, GB Levington
€ 47.412,- EUR 47.412,-

ATS 652.403,-
AUD 73.182,-
BEF 1.912.595,-
CAD 65.578,-
CHF 46.828,-
DEM 92.730,-
DKK 352.670,-
ESP 7.888.693,-
FIM 281.899,-
FRF 311.002,-
GBP 41.274,-
HRK 357.446,-
ITL 91.802.433,-
LUF 1.912.595,-
NLG 104.482,-
NOK 496.781,-
PLN 222.894,-
PTE 9.505.253,-
RUB 2.960.935,-
SEK 521.124,-
USD 49.140,-

Aktuelle Kurse vom 29.11.2022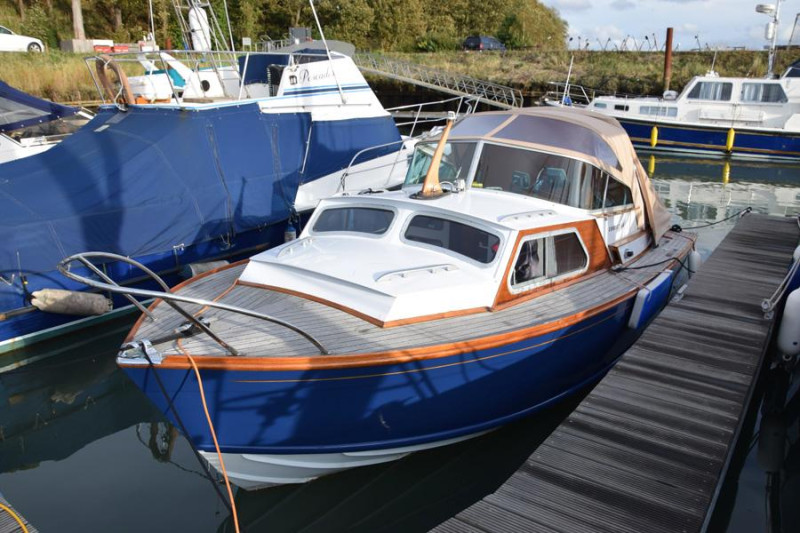 Baujahr: 1962
Erstwasserung: 0
Länge: 8,00 m
Breite: 2,00 m
Tiefgang: 1
Motortyp: Ford Sabre 195
Motoranzahl: 2
Kraftstoffart: diesel
PS/kW: 390 / 287
WC/Nasszelle: 0
Trailer: ohne Trailer
The Christina 25 is a sister ship to Thunderbolt, winner of Cowes to Torquay race in 1962.  Fast, fun and gorgeous to look at, a piece of maritime history!
Viewing by appointment through our Suffolk Office 01473 659 681.
Accommodation
The simple accommodation offers two berths on a V berth with infill.  Portable gas hob.  Separate heads compartment with marine WC.  Spacious sunlounging area aft.

Mechanical Systems
Located under aft deck, two Ford Sabre six cylinder 195hp diesel engines.  Electric start (new starter motors 2021).  Freshwater cooled via heat exchangers.  Shaft drive to three bladed propellers.  Single lever controls.  Maximum speed 35 knots.

Electrical Systems
2 x 12 volt batteries Alternator charging 240 volt shorepower

Deck Equipment
Sprayhood Cockpit canopy Cockpit cushions Various warps and fenders

Navigation Equipment
Garmin 128 GPS Garmin 240 fishfinderr

Construction
Built in 1962 by Walter Lawrence & Sons to a hull design of Ray Hunts with superstructure designed by Bruce Campbell.  Dark blue painted cold moulded mahogany hull.  Varnished rubbing strake.  Teak laid deck.  White painted superstructure with varnished coamings.  Open cockpit with sprayhood and cockpit canopy.  Sunbathing area with cushions.  2020 survey available.

Additional Comments
Bruce Campbell was originally given the sole rights to sell motorboats for Fairey and was involved with helping Fairey development early on.  The initial Hunt boats that didn't sell were reimagined by Bruce.  Using the early Huntress shells which Bruce bought, he completed the boats by adding luxurious cabins.  This came to be known as the Fairey Campbell Christina. From April 1960, the Christina became a real success with the introduction of the 25ft version.  They were built on hulls supplied by Walter Lawrence & Sons instead of Fairey hulls.  Whilst WL&S also had experience of aviation construction, they didn't have the benefits of using an autoclave and thus used a different procedure to manufacture.   The best known Christina was Thunderbolt, driven by Tommy Sopwith, which won the Cowes to Torquay race of 1961.  The victory led to good publicity which boosted sales and image for Christinas.  All of Fairey's motorboats had exceptional hull designs that gave them extraordinary sea-keeping capabilities, top performance and great handling.  The hulls were constructed from Agba, an African mahogany selected for its longevity, resistance to rot and light weight properties.

Disclaimer
The company normally acts as broker for the vendor who unless otherwise stated is not selling in the course of a business. Whilst every care has been taken in the preparation of these particulars the correctness is not guaranteed and they are intended as a guide only and do not constitute a part of any contract. A prospective buyer is strongly advised to check these particulars and where appropriate and at his own expense to employ a qualified marine surveyor to carry out a survey and/or to have an engine trial conducted which if conducted by us shall not imply any liability on our part.
Mehr Angebote von Clarke & Carter Interyacht Ltd
Verkäufer: gewerblich
Clarke & Carter Interyacht Ltd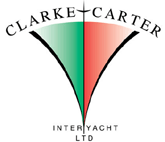 Fairey Christina 25 - ID 8085946
Clarke & Carter Interyacht Ltd
Suffolk Yacht Harbour Levington
Ipswich, Suffolk IP10 0LN
United Kingdom
Suffolk Office
Telefon: +44 (0)1473659681
Telefax: +44 (0)1473659758

https://www.clarkeandcarter.co.uk/

Mehr Angebote von Clarke & Carter Interyacht Ltd