Scampi 30
Segelyacht, Gebrauchtyacht, GB Ardrossan
€ 12.068,-
EUR 12.068,-

ATS 166.059,-
AUD 19.621,-
BEF 486.822,-
CAD 17.622,-
CHF 11.716,-
DEM 23.603,-
DKK 89.879,-
ESP 2.007.946,-
FIM 71.753,-
FRF 79.161,-
GBP 10.500,-
HRK 92.543,-
ITL 23.366.906,-
LUF 486.822,-
NLG 26.594,-
NOK 142.263,-
PLN 54.326,-
PTE 2.419.417,-
RUB 1.049.309,-
SEK 137.901,-
USD 13.049,-

Aktuelle Kurse vom 31.05.2023
EU versteuert - nein, MwSt. exklusiv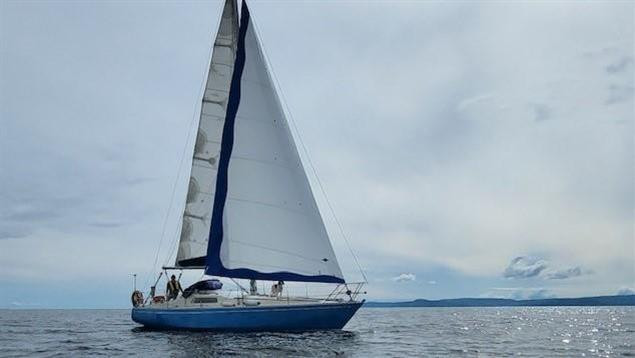 Baujahr: 1975
Erstwasserung: 0
Länge: 9,07 m
Breite: 3,00 m
Tiefgang: 1.6500
Gewicht: 3300.000 kg
Motortyp: 1 x Yanmar 3YM20
Motoranzahl: 1
Kraftstoffart: Diesel
PS/kW: 20 / 15
Betriebsstunden: 40
Kraftstoff: 40 l
WC/Nasszelle: 0
Phaedea a Albin Scampi 30 was built in 1975 by the Alvdalen yard in Sweden to a Peter Norlen design
She benefits from New Yanmar engine fitted 2020 with the sail drive seal also replaced and with only 40 hours running hours. 
General Information
The SCAMPI was Peter Norlins first yacht design. It's hard to think of a case where the first effort of any designer achieved similar success.
The prototype, (by convention, referred to as the MKI,) trounced the competition at the half ton cup of 1969 (sailed under the RORC handicap rule).
After going into production, this second. slightly modified version came back the following year to win first and second in this same event though, this time, under the newly adopted IOR rule. It is thought that at least 50 of this version (MkII) were built. A Mark III version, which followed, was built in far greater numbers.
Mechanical
Engine 
Yanmar 3YM20 new in 2020 with only 40 hours running time. 
Last service Nov 2021 
Saildrive with two bladed fixed prop
Electrics 
12 volt system 
2x Batteries 
Water System 
Pressurized hot and cold water system
Hot water from engine Calorifier 
Tankage 
1x diesel tank at 40 litres 
1x Water Tank at 60 litres 
Mast Rigging and Sails
Mast and Spars 
Alloy Twin Spreader masthead Zspars mast. 
Standing Rigging replace 2013 
Slab reefing Mainsail 
Plastimo 811s Furling genoa unit new 2017 
Sails 
Furling Genoa by Saturn Sails new 2016 
Battened Main age unknown
Spinnaker age unknown 
Accommodation
The accommodation has five berths in two cabins.
Two berths are in the saloon a saloon table that folds.
There is a quarter berth aft of the chart table.
Two berths with the infill, a double is available in the forecabin.
Behind the forecabin is hanging storage with the heads on the starboard side The heads has a pull out shower 
The galley on the starboard and has a two burner Kerosene stove and stainless steel sink with hot and cold water supply .
Orange Upholstery and vanished marine ply and hardwood finish interior with teak and holly floorboards. 
Inventory
Electronics 
Clipper Duet Log Speed and Depth 
Simrad TP10 Tiller pilot new 2021 and still in warranty. 
Mooring and Anchoring 
25lbs CQR anchor with chain and warp 
Various fenders and warps 
Boat Hook 
General 
Manual Bilge pump 
Avon dinghy
Sprayhood with new window fitted 2022 
Clock and Barometer 
Liferaft Ocean Safety 4 man Valse last service 2021 
Danbuoy 
Features
Depthsounder
Mainsail cover
Sea water pump
Furling genoa
Spinnaker
Log speedometer
Autopilot
Spray hood
Vhf
Hot water
Marine head
Battened mainsail
Tiller
Manual bilge pump
In this case we are acting as brokers only.  The Vendor is not selling in the course of a business.  Whilst every care has been taken in their preparation, the correctness of these particulars is not guaranteed.  The particulars are intended only as a guide and they do not constitute a term of any contract.  A prospective buyer is strongly advised to check the particulars and where appropriate at his own expense to employ a qualified Marine Surveyor to carry out a survey and / or to have an engine trial conducted, which if carried out by us shall not imply any liability for such engine on our part.
Note to seller and purchaser:  If the boat you are selling or purchasing is registered, please ensure that the registration is completed after the sale of the boat.  If the purchaser wishes to cancel the registration is the duty of the seller to contact the Registry and inform them that the registration is to be cancelled.  If the purchaser wishes to continue with the registration, it is the duty of the purchaser to complete the relevant forms and post off the bill of sale to the Registrar.
Mehr Angebote von Sunbird International Yacht Sales
Verkäufer: gewerblich
Sunbird International Yacht Sales

Sunbird International Yacht Sales
Clyde Marina
KA22 8DB Ardrossan
United Kingdom
Andrea Martin
Telefon: +44 (0)1294 607074

http://www.sunbirdyachts.eu

Mehr Angebote von Sunbird International Yacht Sales