Seascape 27
Segelyacht, Gebrauchtyacht, GB Cowes
€ 70.113,-
EUR 70.113,-

ATS 964.776,-
AUD 109.395,-
BEF 2.828.351,-
CAD 104.948,-
CHF 77.172,-
DEM 137.129,-
DKK 521.445,-
ESP 11.665.822,-
FIM 416.873,-
FRF 459.911,-
GBP 60.782,-
HRK 531.123,-
ITL 135.757.699,-
LUF 2.828.351,-
NLG 154.509,-
NOK 709.461,-
PLN 318.384,-
PTE 14.056.394,-
RUB 6.433.792,-
SEK 712.881,-
USD 83.338,-

Aktuelle Kurse vom 13.04.2021
EU versteuert - nein, MwSt. inklusiv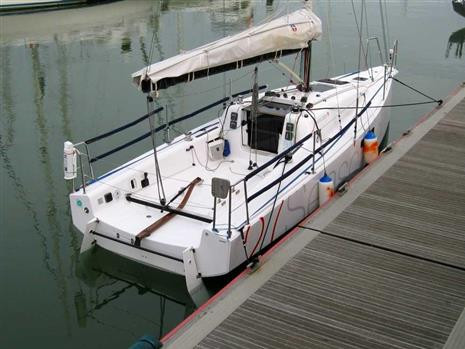 Baujahr: 2014
Erstwasserung: 0
Länge: 8,23 m
Breite: 2,53 m
Tiefgang: 2.0000
Gewicht: 1150.000 kg
Motortyp: 1 x Tohatsu DMFS 9.8A3EPS
Motoranzahl: 1
Kraftstoffart: Petrol/Gasoline
PS/kW: 10 / 7
Kraftstoff: 30 l
WC/Nasszelle: 0
Sold by us 2 years ago and lovingly cared for since. Not many of these exciting racer cruisers have come onto the used boat market, so we ae delighted to offer this thoroughly well equipped, optimised, tuned and polished example.
Inventory and Remarks
Mechanical:
Tohatsu DMFS 9.8A3EPS (2014), 9.8hp, (totally overhauled by Tohatsu in 2018 and fully serviced 2019), 3 Blade Outboard, folds into hull. 2 x 12v, 70a/h service batteries (2015 & 2014) Solar Panel charging and Shore Power Cable. 2 x 30lt removable fuel tanks. Petrol heater.

Deck:
2 x Andersen self tailing 18 primary winches, 2 x Andersen self tailing 12 winches, Manson Racer anchor and leaded warp, 9 x Spinlock clutches, 1 x Compass, 2 x Stainless steel footrests made for the helming position.

Sails & Rigging:
2 spreader Compotech carbon racing mast and boom (both have been retreated), carbon asymmetric spinnaker pole, rod kicker, Continuous 1 x 19 stainless standing rigging 2015-2016, rod forestay and bottle screw adjusters. All running rigging replaced with top quality Racing/Original Spectra. Dacron cruising main (Ullman 2015), Carbon racing main (Ullman 2014), No.2 Carbon racing jib (Ullman 2015), No.2 Carbon cruising furling jib (Ullman 2014), No.3 Taffeta heavy racing jib (Ullman 2014), No.4 Taffeta furling jib staysail (Ullman 2014 unused), Code Zero (Ullman 2014 light use), Asymmetric No.2 racing spinnaker (Ullman 2014), asymmetric No.1 racing spinnaker (Ullman 2015), Fractional asymmetric racing spinnaker (Ullman 2014). All sails in excellent condition, suitable for competitive racing.

Electronics:
Raymarine i70 sailing instruments, autopilot, log/speed and depth, GPS and chartplotter, Ray 260 VHF and AIS ET0090, radio and external speakers. Electronics professionally overhauled in 2018.

Accommodations:
4 berths in 1 double and 2 singles, Forward double cabin, 2 singles in main cabin and 2 smaller berths at rear. Marine wc in heads between fore cabin and main cabin, Sail stroarge area. The interior is light and immensely practical. 2 burner JetBoil Calor gas cooker, icebox. White hullsides and light timber interior, light grey cushion upholstery and royal blue storage holders.

Other Inventory:
Gas detector, searchlight, foghorn, bilge pumps, 4 x warps, 6 x fenders, boat hook, navigation lights, cockpit cover, full boat cover, top and bottom trailing covers, 4 point lifting strops, 4 man Ocean Safety liferaft, 2 x fire extinguishers, dan buoy, lifering/sling. 4 wheel trailer.

Remarks:
The Seascape 27 is an offshore capable racer-cruiser that combines racing performance with cruising simplicity. The boat has been very well maintained by both her owners so she is ready to be handed over in tip top, fully functioning order. The boat was stored in a barn when not in use between the months of October and May until summer 2017. Since then she has been dry sailed from Cowes, mostly sailing single handed..
Features
Fully battened mainsail
Plotter
Vhf
Liferaft
Asymmetric spinnaker
Road trailer
Furling genoa
Tiller
Compass
Log speedometer
Marine head
Gennaker cruising spinnaker
Solar panel
Depthsounder
Shore power inlet
Manual bilge pump
Gps
Contact Information
Sunbird International Yacht Sales are a dynamic & growing team. At their own marina on the Clyde, Sunbird are Britain's longest serving Bénéteau dealer and also offer Bénéteau export sales and service through their offices in Palma, Mallorca, and Gocek /Marmaris, Turkey. Brokerage services are offered by 2 offices in France.
At St Malo we are available every day, so do not hesitate to call or email. +33 777 287995, colin.sinclair@sunbirdyachts.eu You can also drop in to the office at Marc Noel Voile on the Sablons marina in St Malo, Tuesday to Saturday, 0900-1200 & 1400-1800.
Here at Sunbird we really do work as a team, so of course you can directly contact our French, English & German speaking Brokers in St Malo, who are in direct contact with the owners, but feel equally free to contact your local Sunbird office or a member of the Sunbird team you have dealt with before. We will all be very happy to help!
Mehr Angebote von Sunbird International Yacht Sales - Sunbird France
Verkäufer: gewerblich
Sunbird International Yacht Sales - Sunbird France

Sunbird International Yacht Sales - Sunbird France
Marc Noel Voile, ZA des Bas Sablons
35400 St Malo
France
Colin Sinclair
Telefon: +33 (0)299 821730

http://www.sunbirdyachts.eu

Mehr Angebote von Sunbird International Yacht Sales - Sunbird France