Swallow Yachts Bay Raider Expedition
Segelyacht, Gebrauchtyacht, GB Levington
€ 45.957,-
EUR 45.957,-

ATS 632.382,-
AUD 75.920,-
BEF 1.853.901,-
CAD 65.649,-
CHF 44.444,-
DEM 89.884,-
DKK 342.708,-
ESP 7.646.601,-
FIM 273.248,-
FRF 301.458,-
GBP 39.950,-
HRK 352.421,-
ITL 88.985.160,-
LUF 1.853.901,-
NLG 101.276,-
NOK 526.584,-
PLN 211.797,-
PTE 9.213.551,-
RUB 4.686.848,-
SEK 539.578,-
USD 48.702,-

Aktuelle Kurse vom 29.11.2023
MwSt. bezahlt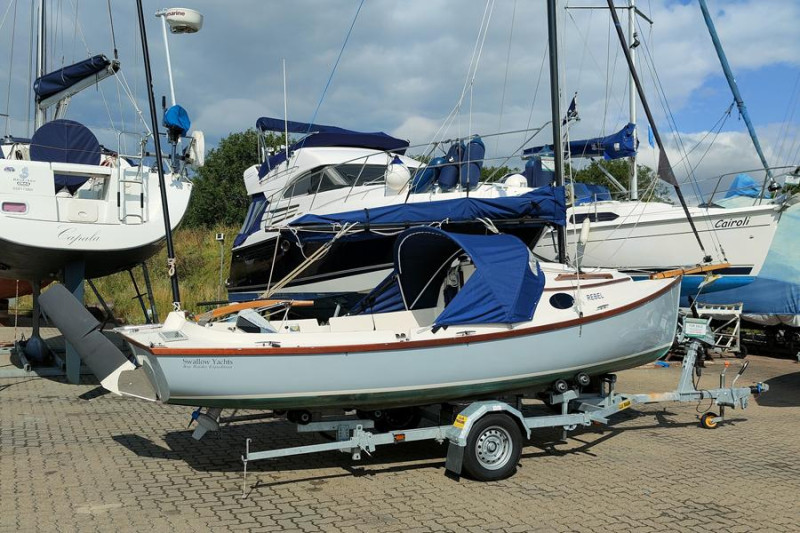 Baujahr: 2022
Erstwasserung: 0
Länge: 6,00 m
Breite: 2,00 m
Tiefgang: 1
Gewicht: 520 kg
Motortyp: ePropulsion Spirit 1.0 EVO
Motoranzahl: 1
Kraftstoffart: electric
PS/kW: 3 / 2
WC/Nasszelle: 0
Trailer: ohne Trailer
The Bay Raider Expedition from Swallow Yachts combines stylish yet traditional lines with the best high-quality materials and excellent build quality to create a uniquely capable daysailer. Their clever design and lightweight make them arguably the easiest boat in their class to tow, launch, and retrieve, whilst also offering sparkling performance, and they are proving an excellent alternative to rivals such as the Cornish Shrimper, Drascombe Coaster, and Memory 19. With a cosy cabin for overnighting or escaping the weather, spacious cockpit, and excellent sailing abilities easily single-handled yet still ideal for fun and competitive racing it is easy to see why! 'Rebel' was completed to a very high specification in October 2022 with almost every conceivable extra including top of the range electric outboard package for environmentally friendly and silent cruising under power, is in excellent condition, and offers the opportunity to skip the waiting list and make a significant saving against new prices. 
Viewing by appointment at our Suffolk Office (IP10 0LN) - 01473 659681
Accommodation
The Bay Raider Expedition's small cabin is cleverly laid out, with a V-berth allowing two to sleep in comfort, and a lift-out central section to allow up to two adults and two children to sit sheltered away below. It is neatly finished with fitted board headlining, blue upholstery, canvas storage bags offering plenty of easily accessed stowage, and an opening forehatch and two portlights providing good natural light and ventilation. Externally, it is clear to see that the main focus of the design team was to create a superb cockpit capable of allowing four or more people to sail in comfort, a rarely achieved feat at this size!

Mechanical Systems
Located in central outboard well, ePropulsion Spirit EVO 1.0KW (3HP) electric outboard with built-in hydro power generation and lithium 1276Wh floating battery pack. Tiller controls with forward and reverse, a smart digital display showing range and other information, and magnetic kill cord for safety. In addition to the standard equipment there is a second battery pack and a genuine EPropulsion 180w solar charging kit, allowing for an extended cruising range. In our opinion this is an excellent setup for yachts of this size, removing the dangers of carrying petrol on board and the maintenance and potential reliability issues of smaller outboard engines whilst also not polluting the water or tranquility thanks to their silent running, and they are becoming increasingly required for use on many inland waters. 

Electrical Systems
Custom portable 12v gel battery for systems with charger Solar panel for powering an automatic bilge pump

Deck Equipment
6kg Spade anchor with 40m leaded warp for ease of handling Blue sprayhood and mainsail cover with lazyjacks Blue halyard tailbags Cockpit mast up tonneau cover Full winter cover Midship mooring cleats Jointed oars, rowlocks, and adjustable rowing seat Warps and fenders

Spars & Sails
Ketch rigged. Carbon fibre masts and booms. Pine bowsprit. Stainless steel standing rigging. Dyneema and terylene running rigging. Mainsheet traveller.  Barton lightweight furling system. Slab reefing mainsail with lazyjacks. Lines led aft to cockpit.   Mainsail, jib, and mizzen   -   Black Mylar laminate   -   excellent Code Zero, Asymmetric and symmetric spinnakers   -   excellent

Navigation Equipment
Steering compass Raymarine MN100-2 solar combined depth and speed/log Raymarine MN100-2 solar wind instrument Raymarine depth, speed, and wind transducers Garmin 276CX colour GPS chart plotter

Additional Equipment
Galvanised single axle braked custom road trailer

Safety Equipment
Solar-powered automatic bilge pump Manual bilge pump

Construction
'Rebel' appears to be in excellent condition, having been made to order by Swallow Yachts for her owner, and handed over in October 2022. Pale grey/blue GRP hull (copper-coated beneath the waterline from new) with cream GRP superstructure and decks. Timber rubbing strake and sheer strake. Lifting keel with water ballast (up to 300kgs). Lifting rudder with tiller and tiller extension. Outboard well with hull closure. Large open cockpit with self-bailers. Flexiteek laid seating.  The clever design allows for excellent stability with the water ballast in place whilst sailing, yet also features minimal draft ideal for exploring shoal waters, as well as making launching and retrieving much easier.

Disclaimer
The company normally acts as brokers for the vendor who unless otherwise stated is not selling in the course of a business. Whilst every care has been taken in the preparation of these particulars the correctness is not guaranteed and they are intended as a guide only and do not constitute a part of any contract. A prospective buyer is strongly advised to check these particulars and where appropriate and at his own expense to employ a qualified marine surveyor to carry out a survey and/or to have an engine trial conducted which if conducted by us shall not imply any liability on our part. General note on safety equipment: Any safety equipment such as liferaft, fire extinguishers and flares etc., are usually personal to the current owner(s) and if being left on board as part of the sale of a used vessel, may require routine servicing, replacement, or changing to meet a new owner's specific needs.
Mehr Angebote von Clarke & Carter Interyacht Ltd
Verkäufer: gewerblich
Clarke & Carter Interyacht Ltd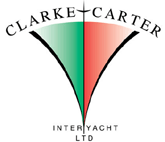 Swallow Yachts Bay Raider Expedition - ID 8975316
Clarke & Carter Interyacht Ltd
Suffolk Yacht Harbour Levington
Ipswich, Suffolk IP10 0LN
United Kingdom
Suffolk Office
Telefon: +44 (0)1473659681
Telefax: +44 (0)1473659758

https://www.clarkeandcarter.co.uk/

Mehr Angebote von Clarke & Carter Interyacht Ltd