Sweden Yachts 390
Sweden Yachts (SE), Segelyacht, Gebrauchtyacht, GB Ardrossan
€ 88.119,-
EUR 88.119,-

ATS 1.212.544,-
AUD 137.490,-
BEF 3.554.712,-
CAD 135.398,-
CHF 95.173,-
DEM 172.346,-
DKK 655.313,-
ESP 14.661.768,-
FIM 523.932,-
FRF 578.023,-
GBP 76.952,-
HRK 667.006,-
ITL 170.622.176,-
LUF 3.554.712,-
NLG 194.189,-
NOK 896.857,-
PLN 395.424,-
PTE 17.666.273,-
RUB 7.852.359,-
SEK 885.018,-
USD 107.132,-

Aktuelle Kurse vom 04.03.2021
EU versteuert - nein, MwSt. inklusiv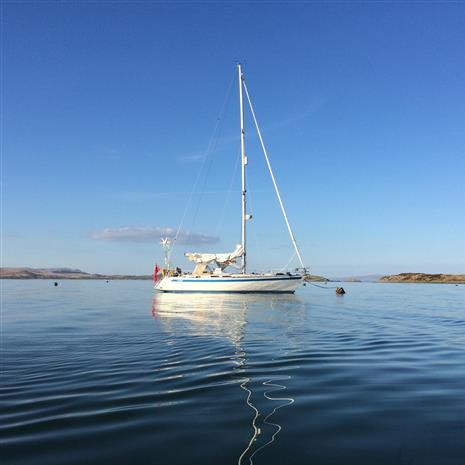 Baujahr: 1991
Erstwasserung: 0
Länge: 11,88 m
Breite: 3,87 m
Tiefgang: 1.7500
Gewicht: 7600.000 kg
Motortyp: 1 x Beta
Motoranzahl: 1
Kraftstoffart: Diesel
PS/kW: 38 / 28
Kraftstoff: 150 l
WC/Nasszelle: 0
1991 Sweden Yachts 390, 'Indigo' has been in her current ownership for 4 years. The 390 is designed for safe, short-handed sailing with clean deck lines and a comfortable, efficient cockpit. She offers 3 cabins in addition to a large saloon. 'Indigo' is a good example of this reputable blue water yacht and is ready to provide her new owner with many miles of fast, safe cruising.
Indigo benefits from a replacement Beta 38 hp Engine in 2014, up to date instruments with Radar and AIS, heating and Sprayhood. She is priced with teak decks replacement in mind however represent great value for a Sweden Yacht of this size.
Dimensions
LOA: 39' / 11.88m
LWL: 31'6" / 9.60m
Beam: 12'8" / 3.87m
Draft: 5'8" / 1.75m (wing keel)
Displacement: 7,600kg/ 16,755lb
Ballast: 3,150kg / 6,944lb
Hull material: GRP
Construction
RCD Status: The yacht conforms with the essential safety requirements of Directive 94/25EC (Recreational Craft Directive) and is categorised A – "Ocean".
Hull Construction:
End grain balsa core sandwich using fibreglass mat and roving on both sides, giving a light, rigid and well-insulated hull.
Balsa core is used from the toe rail to below the waterline. Solid laminate is used in high stress areas around the keel, mast foot and the joint between the two hull halves.
Bottom reinforcements are longitudinal and transversal solid laminate design.
All antifoul removed to gel coat, primed and re-applied (2017)
Deck & Superstructure Construction:
The deck is moulded in fibrerglass with end grain balsa core sandwich. Stress areas where winches and major deck fittings are fixed, are reinforced by replacing the balsa core with plywood, or by using backing plates or large diameter washers.
The hull and deck is bonded together using polyester filler. The alloy toerail is then bolted through the hull and deck flange, using special sealing material.
All main bulkheads are bonded to the hull and deck using glassfibre and polyester.
Teak laid deck and coachroof with additional teak laid cockpit sole, cockpit seating and bathing platform
Keel & Rudder:
Fin keel with lead ballast externally bolted to hull using stainless steel bolts
Keel bolts replaced with stainless steel nuts and bolts (2017)
Balanced GRP spade-rudder, designed for comfortable cruising and easy manoeuvring supported by two ball bearings and a lower bronze bearing.
New rudder bearings fitted (2017)
Chain and wire steering connected to hydraulic autopilot ram
Edeson helm pedestal
Emergency steering gear
Engine
38hp Beta 4-cylinder diesel installed in 2014
Freshwater cooling system via raw water intake and heat exchanger
Volvo saildrive and gearbox - replaced 2014 along with sail drive diaphragm
Approx. engine hours 90 in 2016 now around 250
Cruising speed: approx. 6 knots
Maximim speed: approx. 8 knots
3 blade feathering kiwi prop with new blades and service in 2014
Electrical Systems
12v DC domestic system with 230 shorepower (Siemens 16amp)
1 x 12v 80aH start battery (2016)
3 x 12v 80aH service batteries (2016)
Battery monitoring system installed 2014
Xantrex battery charger powered through 230v shorepower
High output 115A engine mounted alternator (2014)
Sterling 12v/220v inverter
Rutland 913 wind generator mounted on s/s pole (2010) serviced and new bearings in 2013
Plumbing and Tankage
12v pressurised water pump for supplying fresh water (replaced 2010)
Hot water supply via engine calorifier and 230v immersion heater element for 22 litre hot water tank
12v electric bilge pump
2 x manual bilge pumps (cockpit and aft cockpit)
Grey water discharged directly overboard via gravity or 12v pump out
Black water discharged overboard or into holding tank
Diesel fuel tank: 150 litres (33 gallons) in one stainless steel fuel tank - fuel tank emptied and fully cleaned (2016)
Fresh water: 380 litres 84 gallons) in two stainless steel water tanks
Holding tank: 80 litres (17.6 gallons)
Deck Equipment
2 x Lewmar 56 electric powered + 2 speed manual self-tailing winches (genoa)
2 x Lewmar 40 2-speed self tailing manual winches (mainsheet)
2 x Lewmar 46 2-speed self-tailing manual winches (spinnaker/checkstays)
2 x Lewmar 43 2-speed self-tailing manual winches (halyards/reefing on-mast)
Mast & Sails
Selden Spars silver annodised aluminium keel-stepped mast
Masthead rig with two sets of inline spreaders
Selden rod vang
Selden genoa furler
Stainless steel rod standing rigging
Stainless steel rod backstay with Navtex hydraulic adjustment
Slab reefing
Lazyjacks with stackpack (2007)
Genoa track with additional cars
Spinnaker pole
Mainsheet system led back to dedicated winches on both sides of the cockpit
Mainsheet track system on coachroof and adjustable from helm
Sails:
North sails fully battended mainsail (approx. 2002)
Hyde sails tri radial laminate /taffeta 135% furling genoa (2010) - new tapes and sun cover fitted 2016
North sails storm jib
Spinnaker
Sail Area

IJPE : 756.08 sq ft / 70.24sq m
I : 53.08 ft / 16.17m
J : 15.67 ft / 4.77m
P : 48.83 ft / 14.88m
E : 13.92 ft / 4.24m
Working Sail Area : 759.00 sq ft / 70.51
Accommodation
Summary of Accommodation:
Up to 8 berths in two double cabins plus saloon
Interior joinery in Cherry and satin varnished throughout
Varnished teak soleboards with holly inlays
Cream vinyl headlinings with cherry battening
Cream-painted wooden battening to exposed hull sides
Cream cloth curtains
Blue patterned cloth upholstery in all cabins
Solid handrails throughout the interior for easy movement offshore
Cream speckled Corian countertops in galley
Grey speckled Corian shower grate and shower seat in heads
Forward Cabin:
Spacious double-berth utilizing full width of the cabin. Large sail stowage under berths, easily accessible via fold-up berth bottom boards. Shelves with dividers along hullsides to port and sb. Double hanging lockers, locker with shelves and drawers and a seat on port side, across from toilet cabin.
Heads:
Entire moulded compartment fitted between bulkheads. Two lockers with mirrored doors above wash basin unit. Two recessed mirrors in forward sections. Recess for toilet with fold-away extra seat. Corian shower grating, Shower drained by electric pump. Towel hangers. Door both to forward cabin and saloon.
Saloon:
L-shaped settee on both sides (water tanks below). Stowage behind backrests. Table with fold-down wings and built-in bar in fixed mid section Drawers in aft end of table. Cabinets and bookshelves above sofas on both sides of saloon. Doors to forward cabin and toilet.
Galley:
L-shaped galley with Corian counter top. Large capacity icebox in GRP with Plexiglas dividers, drained to a separate sump. Drawer section, cutting board, dry food locker.. Double overhead cupboards. Waste basket and storage below sink.
Eno stainless steel gimbled 2-burner stove with oven - 2007
Top opening fridge (cooling plate 2014) wth 12v Stone Cold Complressor (2006)
Twin stainless steel sinks with hot & cold pressurised water supply
Manual fresh and salt water supplies to galley
Navigation Area:
Large navigation table with stowage. Moulded, detachable instrument panel (spare blank panel supplied) for electronic equipment on hinges for easy service access. Electrical master panel included. Separate chart stowage space above instrument-panel. Adjustable navigation seat.
Aft Cabin:
Starboard cabin with double berth and stowage under. Wet locker. Shelf with dividers along hullside. Vanity sink. Port cabin with double bed, seat with stowage under, and a wide hanging locker. Stowage shelf with doors along hullside. Vanity sink. Doors from main salon to each cabin.
Navigation and Electronics
Raymarine E20 12" plotter installed in 2007. Screen replaced in 2017
Raymarine radar integrated to plotter with closed array scanner on the mast
Comar AIS transponder integrated to plotter (2012)
B&G Hydra multi-repeater
Clock & barometer on main bulkhead (2014)
Hygrometer / thermometer
Standard Horizon VM-3500E DSC VHF (2007)
Standard Horizon command microphone
At Helm:
B&G Hydra multi repeater
B&G Hydra autopilot controller
Riviera White Star binnacle compass
Sony MEW-BT3900U radio/CD/Bluetooth connection (2014)
Switchable speakers in the saloon and cockpit
At cockpit:
B&G Hydra multi-repeater
Raymarine i70 speed/depth (2017)
Raymarine i70 analogue & digital wind (2017
B&G Wind (not tested)
General Inventory
Mooring and Anchoring
Kobra anchor with 60m chain
7 indigo-blue sleeved fenders
Warps
Boathook
Safety
Horseshoe lifebuoy
Danbuoy
MOB recovery sling
Throw line
Fire extinguishers
General
Zodiac Dinghy
Additional Radio handset in cockpit
Service Items
New Beta 38 hp Engine fitted 2014
Volvo saildrive and gearbox - replaced 2014 along with sail drive diaphragm
Keel bolts replaced with stainless steel nuts and bolts (2017)
All antifoul removed to gel coat, primed and re-applied (2017)
New rudder bearings fitted (2017)
Raritan heads overhauled with Raritan OEM parts (2015)
Features
Lazyjacks
Oven
Manual bilge pump
Log speedometer
Hot water
Battened mainsail
Heating
Depthsounder
Plotter
Lazy bag
Swimming ladder
Marine head
Furling genoa
Teak cockpit
Gps
Trisail
Wind generator
Wind speed and direction
Spinnaker pole
Storm jib
Electric bilge pump
Cockpit speakers
Radar
Cd player
Electric winch
Compass
Radio
Teak sidedecks
Battery charger
Refrigerator
Spinnaker
Vhf
Shore power inlet
Spray hood
Steering wheel
In this case we are acting as brokers only. The Vendor is not selling in the course of a business. Whilst every care has been taken in their preparation, the correctness of these particulars is not guaranteed. The particulars are intended only as a guide and they do not constitute a term of any contract. A prospective buyer is strongly advised to check the particulars and where appropriate at his own expense to employ a qualified Marine Surveyor to carry out a survey and / or to have an engine trial conducted, which if carried out by us shall not imply any liability for such engine on our part.
Note to seller and purchaser: If the boat you are selling or purchasing is registered, please ensure that the registration is completed after the sale of the boat. If the purchaser wishes to cancel the registration is the duty of the seller to contact the Registry and inform them that the registration is to be cancelled. If the purchaser wishes to continue with the registration, it is the duty of the purchaser to complete the relevant forms and post off the bill of sale to the Registrar.
Mehr Angebote von Sunbird International Yacht Sales
Verkäufer: gewerblich
Sunbird International Yacht Sales

Sweden Yachts 390 - ID 1843153
Sunbird International Yacht Sales
Clyde Marina
KA22 8DB Ardrossan
United Kingdom
Andrea Martin
Telefon: +44 (0)1294 607074

http://www.sunbirdyachts.eu

Mehr Angebote von Sunbird International Yacht Sales