Vilm 101
Bootsbau Rügen (DE), Segelyacht, Gebrauchtyacht, Niederlande Medemblik
€ 149.500,-
EUR 149.500,-

ATS 2.057.165,-
AUD 230.759,-
BEF 6.030.815,-
CAD 206.782,-
CHF 147.658,-
DEM 292.397,-
DKK 1.112.043,-
ESP 24.874.707,-
FIM 888.887,-
FRF 980.656,-
GBP 130.146,-
HRK 1.127.102,-
ITL 289.472.365,-
LUF 6.030.815,-
NLG 329.455,-
NOK 1.566.455,-
PLN 702.831,-
PTE 29.972.059,-
RUB 9.336.452,-
SEK 1.643.214,-
USD 154.949,-

Aktuelle Kurse vom 29.11.2022
EU versteuert, MwSt. ausweisbar, MwSt. bezahlt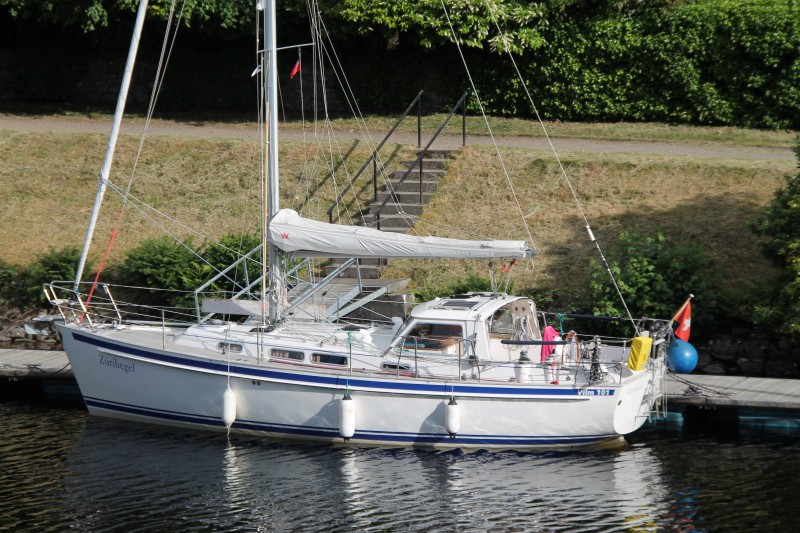 Baujahr: 2004
Erstwasserung: 2005
Zustand: sehr gut
Länge: 10,10 m
Breite: 3,25 m
Tiefgang: 1.45
Stehhöhe: 1,85
Gewicht: ca. 6200 kg
Material Rumpf: GFK
Material Aufbau: GFK
Rigg: Sloop
Segelfläche: ca. 52 qm
Motortyp: Volvo Penta MD2040
Motoranzahl: 1
PS/kW: 40 / 29
Steuerung: Einhebelschaltung
Betriebsstunden: 1271
Frischwasser: 200 l
Kraftstoff: 200 l
Kabinen: 2
Kojen: 2
Kojen extra: 2
WC/Nasszelle: 1
Schiffssteuerung: Radsteuerung mit Hydraulik
Trailer: ohne Trailer
Vorbesitzer: 1. Hand
Ausstattung & Aufteilung
Ruderhaus
Each section is written first in English, then in German.
Jeder Abschnitt ist zuerst in Englisch, dann in Deutsch beschrieben.

Yacht Situation:
The yacht lies in a hangar nine months each year and is sailed during the other three months exclusively by the owner and his wife. It is in excellent condition: dry, clean and well cared-for. After the three summer months of sailing, it is returned to the shipyard for professional service and any necessary repairs before being placed in the hangar for the winter months.
Hallenlager / Zustand:
Pro Jahr liegt die Yacht während 9 Monaten in der Halle. Sie ist trocken, sauber und gepflegt. Nur während jeweils drei Monaten wird sie ausschliesslich von uns gesegelt und gepflegt. Service- und Reparaturabeiten durch Werft.



The Ideal Yacht for a Long Trip and a Crew of Two: Safe and Comfortable:
This Vilm 101yacht has been designed for a two-man crew, with the option of extra berths in the salon. The cockpit is low set and is well-sheltered with a permanent doghouse (open to aft) and special tilted foot-rests the length of the floorboards for extreme weather conditions. In place of an extra berth in the cabin, an extra storage locker has been installed in the cockpit to port with room for the life-raft, rubber dingy, and optional equipment. The unsused space inside the cabin provides a cupboard adjacent to the navigation corner for storage of life jackets and safety harnesses, waterproofs and emergency equipment as well as another access to the motor if need be.
The yacht is rigged to be able to handle mainsail and genoa from within the cockpit, including reefing, and has a special line for hauling down the mainsail extremely fast if necessary.
The yacht has been our true companion over the years as we sailed to eastern and western Sweden, the Aalands, through the Baltic States, to the Channel Islands and around the United Kingdom via the Caledonian Canal, the east coast of Northern Ireland and the Republic of Ireland, Wales, southern England, the Normandy Coast, Belgium and Holland. The paper charts as well as the electronic chart chips are available and the navigation routes are plotted. The European value-added tax has been paid and the ship is presently registered under the Swiss flag.
Optimierung für längere Reisen mit 2er Crew.
Die Yacht ist sicher und bequem und wurde für paarweises Segeln optimiert. Tiefes geschütztes Cockpit. Schrägleisten für entspannten Stand bei Lage. Anstelle der Hundekoje zusätzliche Backskiste mit Platz für Rettungsinsel und Schlauchboot, sowie Schrank mit Zugriff aus Navi-Ecke. Darin Platz für Segelanzüge, Schwimmwesten und Rettungsmittel. Segelbedienung aus Cockpit. Die Yacht war uns treuer Begleiter nach Schweden bis in die Aalands, in die Baltischen Staaten, zu den Kanalinseln und rund England. Papier- und elektronische Karten für praktisch ganz Europa sind vorhanden und in der Navigation geplottet. Die Europäische Mehrwertsteuer ist bezahlt. Schweizer Flaggenschein.


Above Deck and Hardware:
At the bow, a 16-kilo Cobra anchor with 40 meters of 8 mm chain resting in the anchor well is operated electrically or manually from windlass on steering column in the cockpit or from the deck knobs next to the anchor winch near the bow. The pulpit includes a teak pedestalfor ease in boarding plus a mountable aluminum ladder. The railings are of plastic-covered wire and contain a gate opening on each side. The pushpit contains an integrated swim- ladder that swings down aft of the cockpit. The foredeck and sidedecks are teak as are the cockpit seats and deck. Teak hand rails lead along the doghouse roof and coach roof.There is a large hatch in the foredeck over the sleeping area, a smaller one over the WC area, and a large one over the main cabin. There is a large hatch in the doghouse roof and two Dorado ventilators and a mushroom ventilator.
The steering is hydraulic and the steering column contains a binnacle compass and various instrument switches and a folding teak table .There are four self-tailing winches within reach of the steering column and a hand pump for bailing .There are four large storage lockers, one each to port and starboard and two aft, as well as various rings for clipping into safety harnesses. The separate storage locker for the gas cans is starboard aft with a separate ventilation outlet. There is a teak folding chair aft as well as a shower outlet with warm and cold water.
The working area within the doghouse has permanent side and front windows with windshield wipers on the front windows, operated from the steering column.There is a large teak chart area to port of the companionway, an instrument panel over the entrance and, to starboard, another chart area containing the Simrad GPS and plotter instrument. There is a cockpit tent tucked under a fitted tarpaulin aft of the cockpit.
Deck- und Plichtausrüstung:
Kobra-Anker 16 kg mit 40 m Kette 8 mm, E-Ankerwinde mit Verholspindel, Bedienung auf Bug oder an Steuerseule. Bugbeschlag mit Podest und Bugleiter für sicheren Auf/Abstieg. Seereling mit beidseitigem Durchstieg zum Öffnen, integrierte Rettungs-Badeleiter, klappbar. Teak auf Deck und im Cockpit auf Sitzbänken und Boden. Holzhandläufe auf Steuerhaus und Deck. Klappluken im Vorschiff, WC, Salon und Deckhaus. Zwei Dorade- und ein Pilzlüfter. Hydraulische Radsteuerung. Säule mit klappbarem Cockpittisch und diversen Schaltern. Vier selbstholende Winschen, vom Steuerstand erreichbar. Vier grosse Backskisten. Klappsitz im Heckkorb, Plichtdusche warm/kalt. Deckhaus mit festen Front- und Seitenscheiben, zwei elektrische Scheibenwischer, grosse Teak-Ablagen für Karten etc. Cockpitpersenning mit Stehhöhe und guter Sicht nach aussen - bei schlechtem Wetter zum Segeln geeignet.

Pantry
Pantry:
The pantry contains a two-flame gas gimballed stove and oven (with lock), plus an electric stove with two burners. The electric stove fits directly over the gas stove when underway and its use in port helps save fuel (230 volt). The washbasins are made of Nirosta with covers to match the light countertop; the solid wood drawers with stoppers have plenty of space for kitchen utensils. The horizontal surfaces have high fiddles, and there is plenty of cupboard space for plates, pots and pans as well as spices. There is a lot of floor storage in the bilges for fruits, vegetables, beer and wine, as well as dry storage under starboard seating area.
Pantry:
Zwei-flammiger Gasherd mit Backofen, halbkardanisch aufgehängt. Zusätzlich Elektrorechaud mit zwei Platten, genau auf Gasherd passend, für den Einsatz im Hafen/230 Volt. Nirosta-Doppelspüle mit Abdeckungen, massive Holzschubladen die gegen Herausfallen gesichert sind. Genügend Schrankraum für Geschirr und Pfannen.



Below Deck
The main cabin is covered in finest woodwork of unstained, matt-varnished mahogany. The walls are built with backside ventilation. Throughout the yacht there are numerous closets, cupboards and shelves for storage. Large usable bilges exist throughout the salon.
The navigation corner is situated in the salon next to the companionway and is a central communication point whether inside or outside the main cabin.
Sleeping arrangements: The salon sofa can be extended to make a comfortable double bed. It can also be used alone as single bed, as can the portside sofa by lifting and securing the cushions with the lines provided.The salon table is large but can be folded down and secured for sailing. There is a radio/CD/Audio player with two loudspeakers in the salon and in the doghouse area. The forecabin berths offer generous leg and shoulder room as well as plenty of closet space for clothes. The forecabin as well as the WC area have heating outlets.The WC area is roomy and easily cleaned and the Jabsco toilette works beautifully.There is sufficient space for toiletries and there is a shower outlet.
Innenausbau
Erstklassige handwerkliche Verarbeitung in ungebeiztem und matt lackiertem Mahagoni. Wandverkleidungen mit Hinterlüftungen. Im ganzen Schiff reichlich Schränke und Ablageflächen. Grosse, brauchbare Bilge. Bequeme, zu Doppelbett ausziehbare Salonbänke. Radio/CD/Audio- Player. Je 2 Lautsprecher im Salon und Deckhaus. Das Vorschiff bietet grosszügige Schulter- und Beinfreiheit. Es hat genügend Schrankraum für Kleider und Wäsche. Das saubere und einwand- frei funktionierende WC kann wie das Vorschiff geheizt werden.
Navigation
Autopilot, Echolot, GPS, Kartenplotter, Kompass, Radar, Ruderlagenanzeige, UKW-Funk, Wetterfunkempfänger, Windmessanlage
Nautical Instruments:
In the doghouse there is a Simrad Plotter with radar on the starboard side, set on a teak work area. Above the companionway is a combination of three instruments set in teak: 3 additional instruments (2 x multi-digital and 1 wind analog) A holder and outdoor speaker station for UKW telephone. On the port side there is again a large teak working area to fit paper charts with generous side areas for utensils, sunglasses, etc. The work areas are bordered with a rounded teak edging to prevent things from rolling off while underway. There is overhead lighting and one table lamp on the port side.In the cockpit there is a Simrad Autopilot for the hydraulic steering with rudder indicator.
In the navigation corner in the salon: digital instrument for wind, etc. NASA weather recorder, short-wave radio, Wempe clock and Wempe hydrometer. Large chart cupboard aft of navigator seat, with cupboard for life jackets, harnesses, emergency utensils, foul weather gear, flags and hand-held Garmin GPS in a steel box.
Nautische Instrumente:
Im Deckhaus Simrad Plotter mit Radar. Daneben auf Holzkonsole eingebaut: Drei Zusatz-instrumente (2 x Multi-Digital und 1 x Wind-Analog). Halteplatte und Aussenlautsprecher für das UKW Telefon. Grosse Teak-Ablagen und Seitenfächer für Karten, Glas etc.) Decken- und Tischbeleuchtung.
In der Plicht eingebauter Simrad-Autopilot für die hydraulische Steuerung, mit Ruderlageanzeiger.
In der Navi-Ecke im Salonein weiteres Digital-Multiinstrument. Ein Nasa-Wetter-Decoder, ein Weltempfänger, eine Wempe-Uhr, ein Wempe Hydrometer. Grosses Kartenfach, Ablagen und Schrank Segelanzüge, Schwimmwesten, Sicherheitsgurte, Not- und Signalsachen, Flaggen, ein zusätzlicher Hand-GPS in Stahlkassette.
Sicherheit
Bugkorb, Feuerlöscher, Heckkorb, Navigationslichter, Rettungsinsel, Rettungsring, Rettungsweste, Seereling
Safety:
Life raft for 6 persons. Sufficient number of safety lines for life jackets as well as life lines above deck to click into. Rings throughout for clicking into from safety harnesses. Swim ladder able to be dropped from outside yacht. Bailing pump to be used by hand or electrically. EPIRB rescue buoy. Fire extinguisher and fire blanket.
Sicherheit:
Rettungsinsel für 6 Personen. Genügend Sicherheitsgurte. Sorgleinen über Deck. Ösen zum Einklinken der Sicherheitsgurte im Cockpit. Im Heckkorb integrierte Badeleiter vom Wasser aus abklappbar. Lenzpumpe von Hand und elektrisch zu bedienen. EPIRB Rettungsboje.

Planen & Persenninge
Cabriopersenning, Feste Winschutzscheibe, Grosssegelpersenning, Rollfockpersenning
Cockpit tent:
There is a cockpit tent that can be set up from the aft edge of the doghouse extending to just behind the cockpit seats,closing off the area to bad weather. It is high enough for a person to stand upright and contains large vinyl roll-up windows on three sides plus a smaller front panel the width of the cockpit, offering substantial protection from the elements as well as views of the surrounding area whether in port or underway. The front panel window also offers a view of the sails when underway. There is a ventilation slit with mosquito netting above the aft window as well as a vent for the heater to make sitting out bad weather much more comfortable.
Ein Plichtzelt (Kuchenbude)mit Stehhöhe:
kann von achtern wie ein Cabrio-Verdeck hochgeklappt werden. Am Deckhaus angeschlossen bietet es zusätzlichen Lebensraum sowohl im Hafen wie bei Schlechtwetter auf See. Seitlich und hinten hochrollbare Fenster. Ein vorderes festes Fenster (beim Anschluss an das Deckhaus) ermöglicht Blick in die Segel. Lüftungsschlitz mit Mückengitter sowie Heizung erweitern den Lebensraum auf angenehme Weise.
Zubehör
Ankerkette, Badeleiter, CD-Player, Cockpittisch, Druckwasseranlage, Fender, Festmacher, Gangway, Heckdusche warm/kalt, Heizung, Radio, Unterwasseranstrich, Warmwasseranlage, weitere Extras
The inventrory list is available upon request.
Bitte verlangen sie die Inventarliste.

Inspection by agreement.
Besichtigung der Yacht nach Vereinbarung.

Arthur Müller
CH-8800 Thalwil
amueller@hispeed.ch
0041 79 743 23 18



Verkäufer: privat
PRIVATANBIETER

PRIVATANBIETER
Arthur Müller
Telefon: +41.(0)44 720 67 79
Mobil: +41.(0)79 743 23 18